Leading Tones looking to triumph
Hang on for a minute...we're trying to find some more stories you might like.
Pleasant Valley's Leading Tones jazz choir is looking to secure a first-place finish at the Iowa Vocal Jazz Championships on March 26 after a heartbreaking runner-up finish in 2018.
Statewide vocal jazz competitions are relatively new to Iowa. The state hosted its first in 2007 when it was called The Best Of Iowa Jazz Choir Showcase. Three years later, in 2010, the name was changed to the Iowa Vocal Jazz Championships.
This event allows devoted musicians and directors an opportunity to showcase their talents and receive statewide recognition.
Teams are initially categorized into four divisions [1A, 2A, 3A, 4A]  based on the population of their schools. Then, eight schools are chosen from each division– a total of 32 jazz choirs representing schools from across the entire state of Iowa.
The Iowa Vocal Jazz Championships have a unique audition process, unlike any other statewide music festival. While Iowa All-State ensemble auditions require students to prepare an audition in front of judges, the Vocal Jazz Championships ask schools to send in video recordings.
Jazz choirs must submit a recording of one "swing" style song and another of their choice. A panel of judges then listens to these recordings and selects the top eight scoring jazz choirs in each division to compete at state.
This year's Iowa Vocal Jazz Championships will take place on March 26 at the Taplin Performing Arts Center in West Des Moines, Iowa.
Pleasant Valley's Leading Tones jazz choir has proved itself to be one of the best in the state once again. Meg Byrne, director of the Leading Tones jazz choir, said, "This is our eleventh year making it to the state championships, and every year, it is an honor and very exciting."
Leading Tones finished second behind Vocalese, West Des Moines Valley's Jazz Choir, last year– the highest finish in PV history. However, returning members have their eyes set on a first-place finish. A junior and returning member of Leading Tones, Rece Vining, said, "There is certainly a hunger to win this year."
While choir rehearsal takes place throughout the school day, the committed Leading Tones rehearse every Monday and Thursday evening. Vining added, "Sometimes the schedule can be demanding, but the opportunity to sing with such a talented group makes it all worthwhile."
Last year's ensemble experienced a tremendous amount of success at the Vocal Jazz Championships. John Mendelin, junior and returning Leading Tones member, remains optimistic going into the championships this year. "There is no doubt in my mind that Leading Tones and jazz choirs at PV aren't defined by one year's ensemble. There's fierce, driving energy that goes on during Leading Tones rehearsals and performances that I believe stays constant from year to year," he said.
As March 26 approaches, the Leading Tones are becoming increasingly determined to bring home an eluding championship trophy.
About the Writer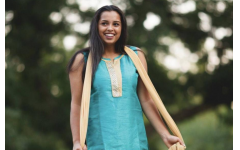 Shreya Khurjekar, Copy Editor
My name is Shreya Khurjekar and I am a Copy Editor for the Spartan Shield Online this semester. When I am not enthusiastically editing articles, I am probably...