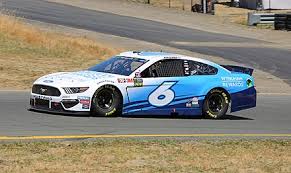 Wikimedia Commons
NASCAR is facing increased calls to improve safety standards after a serious crash that hospitalized driver Ryan Newman during the 2020 season's first race on Feb. 16th.
Fans watching the 2020 Daytona 500, the NASCAR equivalent of the Super Bowl, collectively held their breath during the second-closest finish in race history. Most, however, were not watching on driver Denny Hamlin's second consecutive win of the Daytona 500, instead focusing on the horrific crash unfolding immediately in front of them. 
In a multi-car crash on the final lap, race leader and 2008 Daytona 500 winner Ryan Newman was turned into the outside wall, causing his car to go airborne at nearly 200 mph before being struck on the driver's side by a car behind him. Newman had to be helped from his car by paramedics after he was unresponsive over radio. Newman was hospitalized for two days before being released, but is expected to return to racing in the next few weeks. The race and TV audience was completely unaware of his condition until NASCAR issued a statement several hours after the crash.
Newman's horrifying crash (video here) and the uncertainty that came along with it brought back painful memories for many in the sport. Hall of Famer and all-time great Dale Earnhardt, Sr. was killed in a last lap crash in the 2001 Daytona 500. Earnhardt's death devastated the sport and prompted extensive safety changes.
The reforms prompted by Earnhardt's death are still in effect today, including more protective seat belts, roof flaps to reduce cars going airborne, and a completely redesigned car model termed the "Car of Tomorrow" that continues to evolve yearly. Newman's crash has caused many to wonder if these changes are enough to protect drivers in the high speed crashes common at superspeedways, of which Daytona is the fastest. 
Senior John Mendelin believes further reform can only help protect drivers in crashes like Newman's. "I think it's wise to consider any amount of increased safety measures when considering such a high-risk activity." Though Newman survived, Mendelin cited the high speeds and pack racing characteristic of Daytona as "disaster waiting to happen".
Regardless, safety in NASCAR has certainly evolved in the past 20 years. Senior Bradley Hamilton believes Newman's crash would have been fatal were it not for NASCAR's changes. "Sustaining multiple hits to the driver's side like that…it's almost certain [Newman] would have died." Hamilton believes head and neck restraints and a better roll cage combined to save Newman's life during the crash.
Newman was lucky to only have relatively minor injuries, and his quick release from the hospital is a testament to NASCAR's evolved safety standards. But many also see the wreck as making it clear that the status quo is insufficient. Whether or not further reform comes out of the accident, all fans of the sport can be thankful Newman, a talented and well-respected driver, will continue to race.