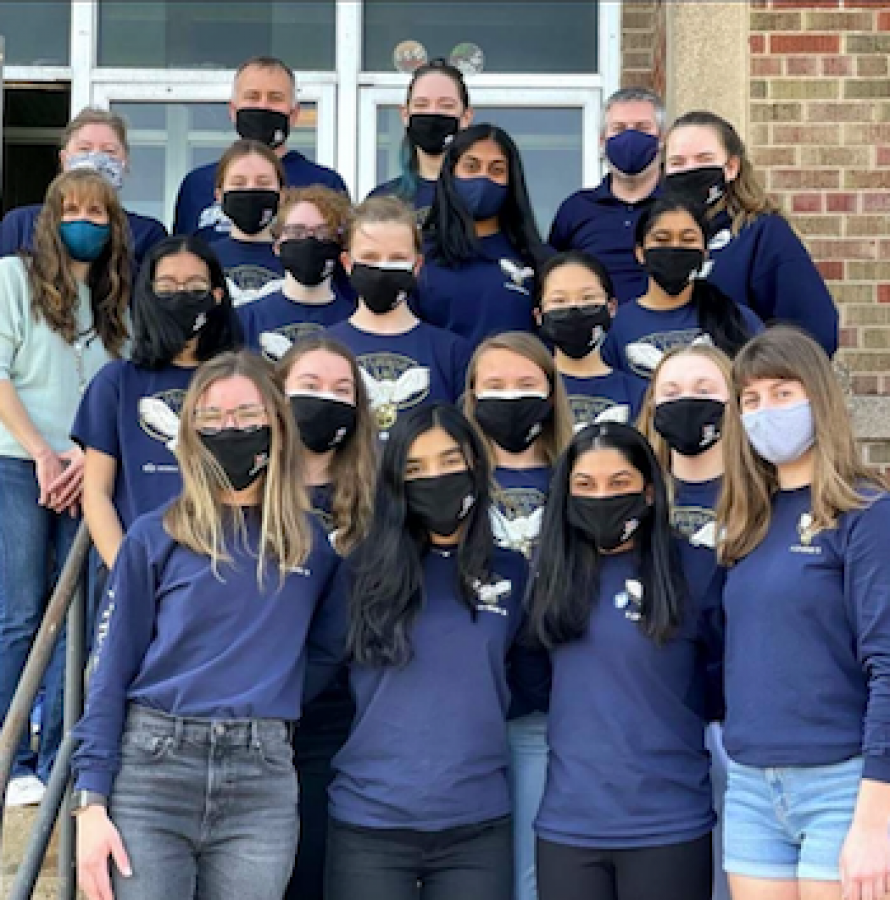 Craig Sutton
With a high percentage of male dominance, it can be difficult for women to break into the science, technology, engineering or mathematics (STEM) fields. 
Despite a push from society for greater female involvement in the field,, but female students often feel as if there is a disconnect revolving around action and follow-through. 
Theresa Barber saw a need for greater female involvement and normalization in STEM fields, specifically robotics. With an increased interest in participation, but a lack of opportunities, Barber saw a need to find a solution. As a result, she created an all-female robotics team. 
Six years ago, when the class of 2021 was in sixth grade, Barber started her team, and the excitement surrounding this team allowed for it to continue past its expected date. 
Senior Aditi Nachnani has been involved since the start of the robotics program, and throughout her years of participation, she has been able to reflect on the foundation of the group. "Our all girls robotics team, Flourish & Bots, started back when I was in 6th grade. That team was supposed to last only for a year but my coach and our team formed a sisterhood, so we knew we had to continue our journeys in robotics together," she reflected. 
"Our team was the start of an organization called the Flourish & Bots Project. This project began when my coach noticed a lack of girls in robotics and wanted to give them an opportunity to learn, grow, and become leaders in the world of STEM," Nachnani continued. 
Although Nachnani was originally pushed to pursue robotics by her parents, she has grown to find a passion for it. 
"I was forced to join robotics due to my mom but when I was introduced to the endless functionalities and capabilities of the robot and the friendly competitiveness of solving exciting missions, I never looked back," Nachnani explained. "Apart from getting to express my own ideas and building mechanisms, my favorite aspect of robotics is collaborating with my teammates as well as meeting professionals and teams from all over the world."
The community and atmosphere created by a group of people coming together on a common interest can be a powerful thing. Nachnani was taken aback by the amount of passion she discovered for something so unexpected, but she is grateful for the opportunities it has provided her. 
The stigma around females in STEM careers or activities is prominent, especially within competitive atmospheres. For a robotics team, this competition is a constant. Getting involved while facing the possibility of doubt or lack of acceptance was a challenging thing to overcome for Nacnani and her fellow team members. 
"Since robotics is so male dominated, I do believe that there is a stigma that females do not have the capabilities to participate in such activities. As an all girls team, my team faced various challenges related to this stereotype such as getting unprofessionally treated by males from other teams," Nachnani commented. 
Although the mistreatment and stereotypes have caused some unrest and frustration, Flourish & Bots has found immense support within their community of independent females. Flourish & Bots has been successful in working as a team, as well as creating a safe environment for fellow females to pursue their interests. 
Freshman Gabriella Howell was introduced to the world of STEM at an early age, and although she had lots of encouragement from her family and educators, she recognizes the disconnect within the field. 
"I think a lot of the time young girls think that it's not something they should be interested in or something they would enjoy. This could be because these young women don't have any female role models in STEM around them to encourage them," Howell explained. "Personally if I didn't have parents who opened me up to STEM, I never would have found one of my passions."
Lack of representation in many aspects of life can deter people from their true potential. For Nachnani and Howell, the sisterhood created by their involvement with Flourish & Bots has been enough to encourage them to further their participation. 
"Our team is proud to mentor three younger girls teams. Our robotics team is through the program, FIRST, which includes multiple age levels of robotics. One is called FLL, which applies to the younger levels of robotics," Howell said. "This team learns how to build robots using motors and legos as well as solving a current problem. My team helps coach these three teams through our Flourish & Bots program."
The impact of organizations, clubs and teams such as Flourish & Bots can make a significant difference in detaching the stigma around females in STEM. For Nachnani and Howell, they have been able to experience their own breakthroughs and success, while encouraging future intellectual females to continue doing the same. 
"Working around supportive females that have the same passion and goal as me really helps me to give my best in everything I do because I know they have my back. Our team is more than just a team, it's a family of sisters, Nachnani explained. "The bond I have created with them is something I truly cherish."
Flourish & Bots was created out of the dream Barber held for the future of the STEM field. Due to her willingness to pursue the establishment of further opportunities for female students, women such as Nachnani and Howell have been able to expand their identities beyond the normalities ingrained in society. 
The opportunities and experiences given to the females on this team have been significant, and Nachnani has experienced countless positive changes in her life because of Flourish & Bots. 
"One challenge I faced when I first joined robotics was the fear of public speaking. I was too scared to answer any interview questions and could not get myself to voice my opinion," Nachnani explained. "But thankfully, due to the support of my teammates and coaches, I was able to work on that challenge by participating in many outreach activities and by becoming a team captain."
The after effects of this program have incited not only a positive impact regarding female involvement in the STEM field, but also for the individuals who participate in the program itself. 
Whether it be within the world of robotics or another aspect of science, technology, engineering or mathematics, the identity of a female is beginning to broaden. Nachnani and Howell have seen it first-hand, and their experience is one of many continuing to persevere within rigid societal standards.