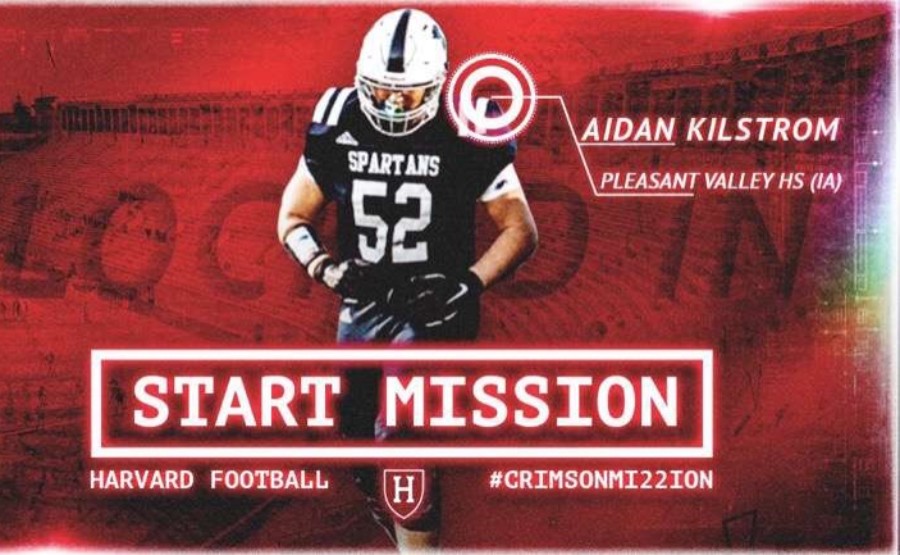 Aidan Kilstrom
Getting accepted into an Ivy League school is a dream students share worldwide. That dream became reality for PV senior Aidan Kilstrom when he was accepted to Harvard.
Now if I were to tell you that Kilstrom was offered a scholarship to play football for their team your opinions on him may not be the same. There is a stigma around Ivy League sports commits.
Recruiting athletes looks different for Ivy League schools mostly due to the fact that they do not hand out athletic scholarships; rather, they offer need-based financial aid. The Ivy League also utilizes a system called the Academic Index. This system ensures that only qualified student athletes can attend the schools to keep up with the higher standard academics the conference boasts, though these requirements are generally lower than regular students.
While students who try their luck at acceptance to one of the schools face acceptance rates sometimes lower than five percent. These student athletes have a huge advantage because the schools seek them out. They get to skip out on a fair chunk of the competition the traditional route demands and are able to commit on their own terms. In many instances, student athletes with above average academic statistics have multiple offers from Ivy League schools.
The obvious tension between normal students and those accepted based on athletics is a largely talked about debate by high school students. Normal students believe their own grades, test scores and extracurriculars are more deserving of acceptance, passing off student athletes as unworthy of their opportunities. 
Kilstrom does not fit the mold of a typical student athlete, however. "Academics have been my number one priority going through high school and although it is football that has granted me this opportunity, it would have been impossible without academic success. Currently I maintain a 4.1 GPA while taking some of the hardest classes available," he said. 
"This is very hard to keep up with when also having to balance a very rigorous and time consuming training regiment that consists of weightlifting, cardio and position specific work. Finding just enough time for everything has been difficult and led to a lot of late nights and stress, but the adversity has undoubtedly made me a harder worker, as well as a more well rounded student."
Any knock on student athletes who attend prestigious schools only because of the fact that they are desirable athletes does not apply to Kilstrom. He has proven himself as a worthy recipient of his once-in-a-lifetime opportunity. Simply put, he checks all of the boxes, breaking the stereotypes a person in his shoes would typically face. 
Although he disagrees with it, he understands the heat that he has been taking from fellow students and peers. The reason people often receive backlash for committing to an Ivy League or elite academic institution for a sport is because they are often not as qualified academically as the other students who have received acceptance," he said. "The lower requirements for athletes are simply because balancing academics with athletics is very hard and something only few people can do well."
As mentioned earlier, the Academic Index is used for measuring the academics of recruits and does in fact have variables in play that benefit the student athlete. The official document stated, "The Athletic AI for all athletes in all sports must be within one standard deviation of the Campus AI. This allows each college some flexibility by allowing a few key revenue sports to have a Team AI lower than one standard deviation." In simpler terms, the sports that rack in the most cash for the school itself get a fair amount of leeway when it comes to who they can recruit. 
These schools would not allow this wiggle room for recruiting if it was no for a just reason. After all, even with this system implemented, graduation rates are still exceeding 95 percent. 
Kilstrom is ready to embrace the challenges on the way for a student athlete attending one of the most distinguished institutions in the world. He expressed his anticipation. "The thing that excites me most about my commitment is being able to capitalize on the resources and opportunities that will be available. The networking that Harvard offers will without a doubt, open doors that would have otherwise been left closed, He said. "These next 4 years will hopefully set me up for the 40 more to come and I can't express how excited I am to begin on this journey." 
Not only is he prepared, but Kilstrom is thrilled for what is to come.