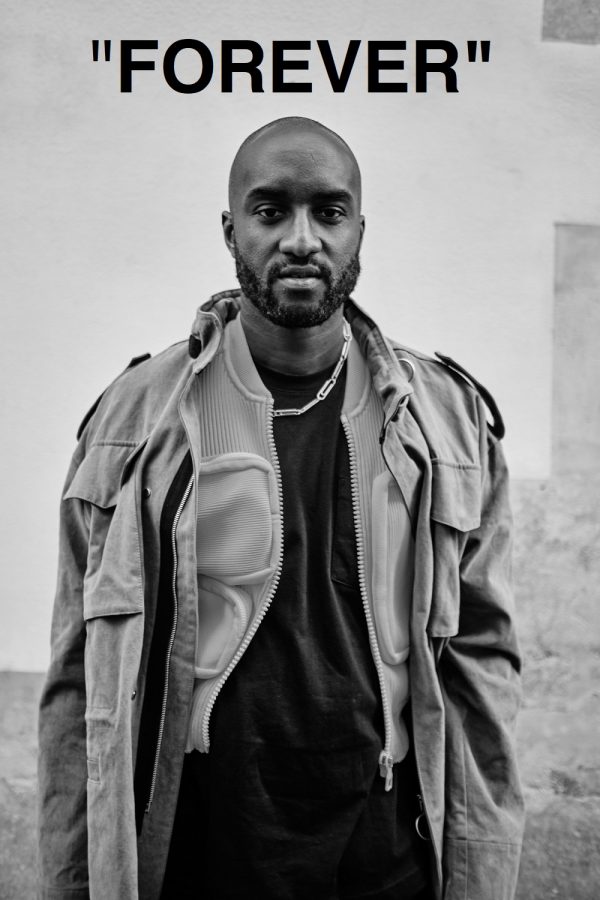 Myles Kalus Anak Jihem, CC BY-SA 4.0 , via Wikimedia Commons -- edited by Vinay Joshi
For many fashion enthusiasts, Virgil Abloh and the industry are inseparable.
But at the age of 41, the visionary fashion designer, artist and creator, passed away from cardiac angiosarcoma, a rare cancer at the atrium of the heart, leaving the fashion industry without one of its trailblazers.
The news came as a shock to all except his close family as Abloh chose to fight his illness privately. The tragedy sent ripples through the worlds of high-fashion, streetwear and music – distinct communities Abloh spent his career blending together.
Abloh, a first generation Ghanaian-American, was born in Rockford, Il., less than 100 miles away from the Quad Cities. After graduating from the University of Wisconsin-Madison in 2002 with a degree in civil engineering, Abloh moved to Chicago to attend the Illinois Institute of Technology (IIT) to get his Masters' in architecture. 
Chicago proved to be the perfect environment for Abloh's eye for fashion to be opened. Abloh became entranced by a new building on IIT's campus designed by renowned architect Rem Koolhas, who also designed runway collections for Prada. While working at a Chicago print shop, Abloh would meet then up-and-coming musician Kanye West, and the two would come to form a close bond. 
After Abloh graduated from IIT in 2006, he began working in the fashion industry and alongside West. In fact, the two would intern together at Fendi in 2009, and in 2011, West would name Abloh the creative director of Donda, his creative agency.
West provided the spark Abloh needed to change the world.
From 2011 onwards, Abloh took on projects at a relentless pace, barely pausing to catch his breath. He was nominated in 2011 for a Grammy Award for Best Recording Package for designing the famous golden cover of West and Jay-Z's collaborative album "Watch the Throne." He also designed the ubiquitous minimalist album cover for West's 2013 record, "Yeezus," one that drew controversy for symbolizing the open-casket of the physical CD.
In 2011, Abloh ventured into the fashion world with Pyrex Vision, screen printing a design resembling a sports jersey over Champion blanks. Abloh described the Pyrex Vision as akin to an art project rather than a clothing brand, but regardless, his collections sold out quickly. Following Pyrex Vision, Abloh founded Off-White in 2013, with the goal of reimaging high-end fashion as more catered to the youth. "In a large part streetwear is seen as cheap. What my goal has been is to add an intellectual layer to it and make it credible," said Abloh about Off-White in a 2016 interview.
Off-White took the world by storm with its ethos of deconstruction and signature elements of diagonal stripes, quotation marks and arrows, all the while maintaining high-fashion ideals. One of Abloh's creations from Off-White's 2015 women's fall collection made him a finalist in the LVMH (Louis Vuitton's parent company) Prize for Young Fashion Designers. However, in 2017, Off-White ascended to streetwear stardom with The Ten, a collaboration with Nike, delivering a fresh take on iconic Nike silhouettes.
Virgil brought his deconstructed take to the Blazer, Air Jordan 1, Air Max 1, Air Force 1 and six other Nike staples complete with block quotation marks and red construction tags in an instantly legendary collection of sneakers. 
Following the immense success of The Ten, it was not long before supermodels like Kendall Jenner, Bella Hadid and Kaia Gerber were walking down the Off-White runway. Collaborations with the likes of Serena Williams, Ikea and Evian water sprung from Abloh's mind at a feverish pace, reaffirming the ideology he described at a talk given to Harvard's Graduate School of Design. "My immediate reaction to anyone asking me anything is yes," he recalled, telling the story of when rapper Lil Uzi Vert asked him to direct the music video for his hit "XO Tour Llif3," a video which has since amassed over 460 million views.
Abloh's emphasis on creating quality streetwear that met the standards of high-fashion resonated deeply with the youth. Senior Tarun Vedula became infatuated with Off-White and Abloh after seeing an Off-White construction belt in public a few years ago. "I think Virgil revolutionized the way the fashion community looks at art by incorporating his designs into all types of mediums. His ability to combine casual wear with futuristic garments extended way past the limitations of Off-White and permanently changed the community," Vedula reflected.
As Off-White became a global phenomenon, the giants of high-fashion took notice. In 2018, Abloh became the Artistic Director of Louis Vuitton's menswear ready wear line, breaking barriers as one of the only men of African descent to occupy such a position in a haute-couture house. A recurring theme of Abloh's time at LVMH was boyhood, represented by rainbows, kites and even a bounce house.
The fresh perspective Abloh brought to LVMH was rewarded swiftly. In July 2021, the world's most valuable luxury collective appointed Abloh as the Chief Disruption Officer, giving him a creative stake in a wide variety of LVMH businesses and expanding Abloh's work far beyond just clothing. Abloh had a say in everything from Hennessy cognac to some of Europe's most lavish hotels. LVMH's belief in Abloh did not stop there; they also bought a 60% stake in Off-White. 
At the time of his passing, Abloh was the most powerful Black man in fashion. In an Instagram post following his first Louis Vuitton show, Abloh can be seen on the rainbow runway he curated, the caption reading, "you can do it too…" 
Abloh has had a profound impact on Neal Miyabi, the former Creative Director of Cybersole. Cybersole is hailed as the gold standard of automation software used for acquiring limited, high demand goods such as Off-White products. Cybersole has over two million checkouts in just a few years with less than 10,000 users.
"I think the impact Virgil made was far beyond the streetwear world and even the fashion industry. Everyone can take something out of Virgil's book. To always observe your surroundings, to constantly try and push the status quo, to never give up on your dreams no matter how unreachable they may seem, and to hold your work up as the most important rather than how you believe it would be perceived by other people," Miyabi commented.
Calling back to the youthful ideas Abloh explored, LVMH paid tribute to the maverick with fireworks and hot-air balloons at Art Basel, a Miami fashion show that came just days after Abloh's passing. At this show, Abloh was slated to unveil Louis Vuitton's Spring/Summer 2022 line. The show Abloh had imagined was carried out seamlessly, with colorful outfits, statues of the creator and many celebrities giving their tributes at the venue.
Abloh was a prolific designer, venturing into spaces society would not expect a Black, Midwestern kid without formal fashion training to be able to. But Virgil was different. He showed the world what was possible, chipping away at the status quo of high-fashion.
Perhaps Virgil Abloh's work is best described by George Condo, the artist behind the cover of Kanye West's critically acclaimed "My Beautiful Dark Twisted Fantasy," an album widely agreed upon as one of the finest of the 2010s. "Virgil makes things happen, intrinsically knowing that his talent is to move into an electric field and create a transcendent art experience for our people," Condo said.
Although he died too soon, Virgil Abloh's unexpected rise to the top will always remind people of one thing: You can do it, too.