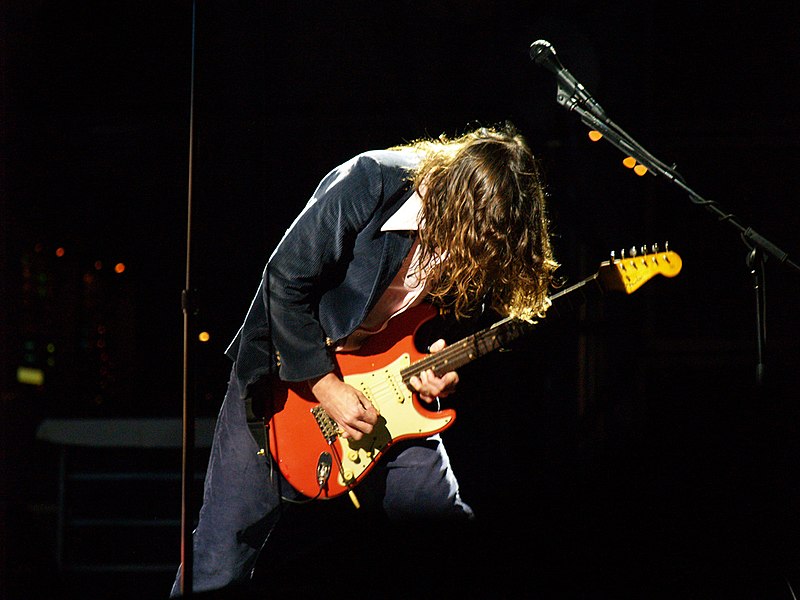 Chad Carson via Wikipedia Commons
After a 16-year hiatus from the Red Hot Chili Peppers, guitarist John Frusciante has rejoined the band to record "Unlimited Love," the group's first album in six years. 
The release of the phenomenal "Black Summer" as a single earlier in the year built suspense for the album's release. Its dark, grungy feel is the definitive highlight of the album, but aside from it and a few other sparkling moments, the project seems to lack focus, direction and is generally uninspired. 
Across the record, the lyrics are overall weak. Vocalist Anthony Kiedis has never been known to be a master of words, but even for him, the songwriting is a major flop. Most of the lyricism on "Unlimited Love" is either too fragmented to be a coherent thought or stoops to the lows of lyrical cliches or tired pop culture references. Some of the verses on this record are downright laughable; the song "Poster Child" sounds like Dr. Seuss wrote Billy Joel's "We Didn't Start the Fire," except while on crack. 
Kiedis is trying to reach too far, and it prevents the record from reaching its full potential. While they may not be the same Red Hot Chili Peppers of "Blood Sugar Sex Magik" or "Californication," there are still moments when the band shines through. One can still hear the familiar alt-funk groove of their golden years, albeit mellower and smoother. 
Flea's melodic bass lines are featured heavily throughout all 73 minutes of the album, filling in space perfectly and creating that characteristic "Chili Pepper" sound. Frusciante's return to the band was long-awaited, bringing the rich, dark lead unheard in their previous two records. The influence of his years of electronic experimentation can be heard in the cosmic ballad "Not the One." 
Even with some killer grooves from the rhythm section, the majority of the record comes off as lazy and unpolished. 
Perhaps the lack of focus comes from having nothing left to prove. The band enjoyed commercial success for years, and at this point, they may just be returning to their roots – but in a more contemporary application. The group spent much of their early years jamming with Kiedis rapping over the music, and "Unlimited Love" feels like a transportation back into the practice room, except with the addition of synthesizers and other modern technologies. 
Even if "Unlimited Love" was supposed to be a jam album, there seems to be an over-abundance of material for a record that lacked direction. The majority of the songs on this 17-track album felt unfinished, and the lyricism was simply inadequate.  
If listeners were expecting the in-your-face, alt-funk Red Hot Chili Peppers of the '90s, they should prepare to be disappointed. But the album is not without merit; the musical experimentation of the band and Anthony Kiedis's unfiltered songwriting make "Unlimited Love" worth the listen.