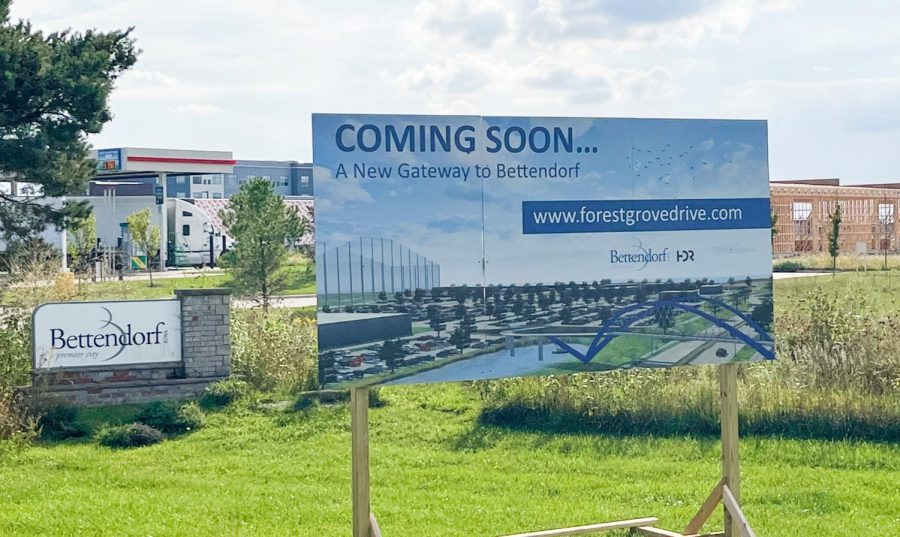 Jake Wilsted
What were corn fields are now a central tourist attraction for Iowans and citizens of neighboring states. 
The Forest Grove area became a prominent place for economic growth after the announcement of the TBK Sports Complex, commonly referred to as the BettPlex, in 2017. The TBK Sports Complex attracts people from all over Iowa and adjacent states to compete in sports tournaments, engage in entertainment such as bowling and laser tag, and work out. 
The sports complex and the surrounding businesses generate substantial income for the city. Bob Gallagher, Mayor of Bettendorf, stated that $25 million of economic impact has resulted from the sports complex investment. 
Scott Webster, the Bettendorf 5th Ward Alderman, further elaborated on the impact on Bettendorf's economy. "The TBK sports complex has created a large amount of economic growth and will continue to for years to come. The economic benefit of money from outside the region entering our local economy is a huge factor to its regional economic benefit," he said. 
This year, Bettendorf announced an addition of a three-story golf complex–an automatically scored driving range in which a computer will track golf balls to tally up a score. 
Riley Asselin, a shift leader at Subway, expressed that business has grown for the restaurant as the area expands. She expects more business as the golf complex and more attractions enter the area. "For the future, I expect that with the new golf complex going in, to see more growth in our business at Subway," Asselin shared.
However, the addition of a golf complex is not the only new attraction coming to Bettendorf. In a detailed three-phase plan, the mayor aims for the expansion of the area to be a new gateway to Bettendorf. Construction over the next year will add a pedestrian bridge over the roadway, aesthetic improvements to the area, and widening roads to allow for more traffic. Construction will wrap up phase three in November 2023. 
Webster further commented on the development in the region. "The new development on the northeast side of Forest Grove and Middle Road will be the new top golf style golf including a restaurant and inside entertainment area. The area will also get additional baseball diamonds with the ability to turn them into soccer fields. Along with all of that, there will be a similar commercial area near the intersection that should look like a mirror image to the west side," he said. 
While there have not been any more official announcements on other attractions and businesses coming to the area, Webster assures that more announcements are to come. 
This project has not only significantly contributed to Bettendorf's economy, but its expansion also aims to create a more environmentally friendly Bettendorf. This expansion project obtained 11.96 million dollars in funding from the federal government, city government, and, notably, a half-a-million dollar grant from the Iowa Clean Air Attainment Program (ICAAP).
Bettendorf aims to continue its population growth, economy, and attractions. The city is doing just that. After all, Mayor Gallagher describes the expansion as "a game changer, part two."