A new look at leadership: Biden's first 100 days
February 8, 2021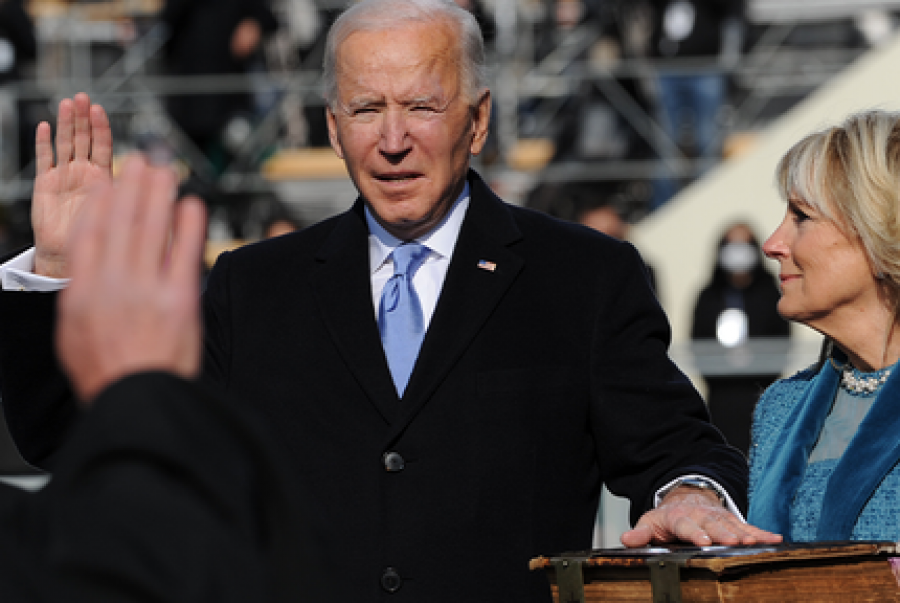 Joe Biden was sworn in as the 46th President of the United States on Jan. 20, beginning the first 100 days of his presidency with eyes from both sides of the political spectrum on him and many promises made to the American public.  
Biden hit the ground running on his first day in office, signing many executive orders in hopes to push through a significant number of agendas he came into office with. Many of these agendas regarded  the ongoing COVID-19 pandemic, which he addressed by launching a "100 Days Masking Challenge", requiring masks and physical distancing in all federal buildings, on all federal lands, and by federal employees and contractors, and re-entering the World Health Organization (WHO).
The first 100 days of Biden's presidency fell under unusual circumstances, considering the polarizing previous administration, the questions still surrounding the election and the global pandemic. These factors led him to use a different method of addressing his ideas than his predecessors. 
His unconventional approach started immediately upon his arrival in office, Biden has signed more executive orders in the first two weeks than Barack Obama and Donald Trump combined. He is most similarly following in the footsteps of Franklin D. Roosevelt (FDR), the only president who used executive orders more in the first two weeks than Biden. 
Trever Zahn, a government teacher at PV, balances both common viewpoints in the current political climate when describing Biden's use of executive orders. "The situation that Biden finds himself in is certainly a unique one in which any choice is going to find it's fair share of critics," he explained. "Some might argue that an aggressive approach is exactly what we need to address the concerns of the pandemic and respond to the needs of the people while others would say that we have an established legislative process for a reason." 
Throughout Biden's work in Congress, many of his peers and his constituents viewed him to be a moderate Democrat. Many believe his reputation remained unfaltered as he pursued the presidency. The central promise throughout Biden's campaign and the early stages of his presidency has been to be a president for all Americans. 
However, some of the ideas he has introduced recently have seemed to be more progressive in some people's minds. Senior Courtney Mohr, who actively engages in politics, has been surprised by some of the initiatives Biden has taken. "With his legislation to end private for-profit prisons. I was very surprised and very pleased to see that he is taking action and really showing that he wants to see progress and help every American citizen," she described.
The legislation Mohr referenced is an executive order with the goal of reforming the current incarceration system in order to eliminate the use of private prisons. This came as a surprise to many based off of Biden's campaign, and some, like Mohr, have taken this as proof that Biden will follow a more liberal path in the future.
Another aspect of Biden's administration that is believed to benefit him is the "friendly" relationship he has with Congress, as both chambers are Democratically controlled. Zahn believes that this can give Biden a leg up in passing certain aspects of his agenda. "It certainly seems more likely that having the party support of both houses would allow for policy to be enacted that would encourage a President to go after the promises that they made in their campaigns," he said. 
Looking to the future, Biden hopes to make due on his many campaign promises. While it is unknown what he will continue to achieve throughout the remainder of his presidency, he has already executed many of his campaign points within his first few weeks.