Chapter 24: John McGrath
Though many see him as the guy with the strong political views, John McGrath is more than that. McGrath is an offensive lineman for the Pleasant Valley Football team. He is truly passionate about the sport and cares about his fellow teammates and friends.
"I have had the privilege to play with some of the greatest friends, brothers and teammates I could ever ask for," says McGrath.
Outside of school, he spends his free time hanging out with friends, playing football or Xbox or going to the gym. When thinking back on his younger self, McGrath reflects on how much he has grown as a person, both physically and mentally. "I look back at pictures from freshman year, and realize how small I was."  
Our school's athletic program, as well as McGrath's commitment to lifting on his own, have all contributed to his growth in the sport. "I am truly passionate [about] my love for football and the group of guys I fight with on the offensive line."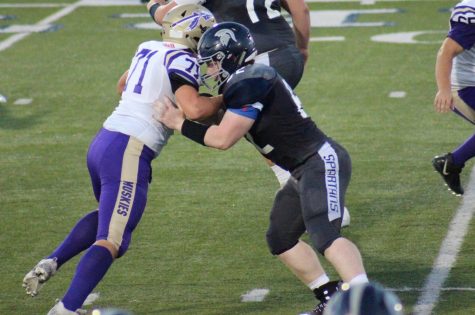 Although football is important to McGrath, he does not intend to continue his athletic career in college. He plans to earn his bachelor's degree in biology from the University of Iowa, and later hopes to get into their graduate program for Physical Therapy.
"I like staying in shape and helping others get to where they want to be in their own physical health. I previously considered going down the path of personal training, but I felt physical therapy had much more to offer," says McGrath.
McGrath hopes to accomplish a lot this football season and have a good senior year.