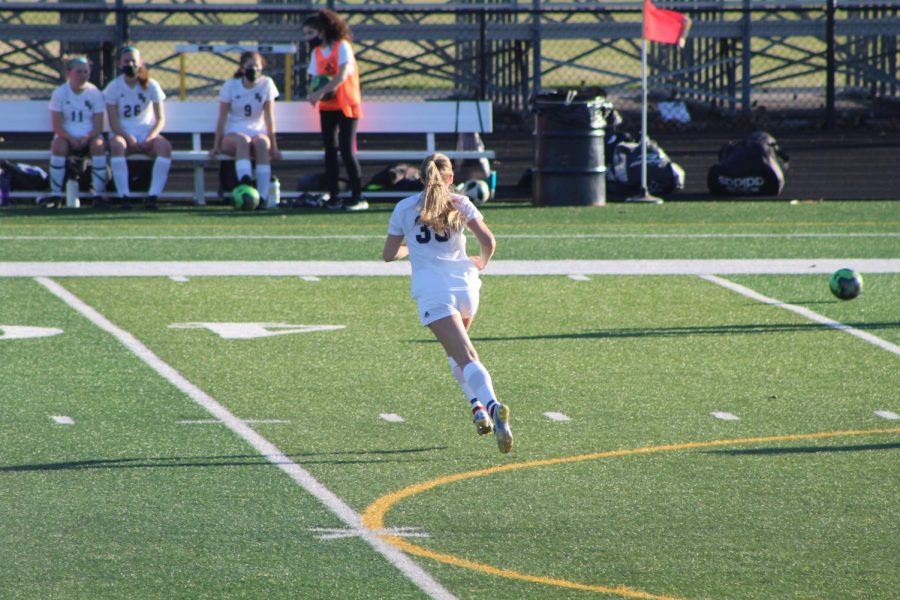 Morgan Russmann
The Pleasant Valley girls soccer team is undefeated throughout their first 10 games of this season, sitting at the top of the state rankings as of now.
The team has continuously got the job done on both ends of the field, night in and night out. Through 10 games, the Spartans have scored 32 goals, and only allowed five.
The Spartans offense is led by freshman Morgan Russmann. Russmann serves as the striker where she is able to use her speed and goal-scoring mentality to get the ball in the back of the net for PV. Russmann has collected 11 goals and a pair of assists so far this season.
Although Russmann is always one of the youngest girls on the field,   she makes up for lack of age and experience with a surplus of confidence and an aggressive offensive mindset. 
Her confidence shines through with her style of play on the field. Russmann leads the team with 29 shots on goal, while the second most is only 20. 
Russmann has collected two hat tricks on the year, for one of which she was voted to win WQAD's Score Standout of the week.
Although Russmann is young and does not have the same amount of experience under her belt that most other players do, her role on the team is not in question. "My job is to help get as many opportunities to score as possible. I need to not only create, but take advantage of these opportunities to help our team score," Russmann stated.
In doing exactly that, Russmann is tied for second most goals scored in the Mississippi Athletic Conference (MAC).
Despite her individual success, Russmann is also very proud of what her team has accomplished through these first 10 games. "To say being ranked number one feels amazing would be an understatement," Russmann said. "I am so proud of all that our team has done to get where we are. I think this is definitely well-deserved," she added.
Russmann and the Spartans look to continue on their path of success and eventually bring home a state title come June.