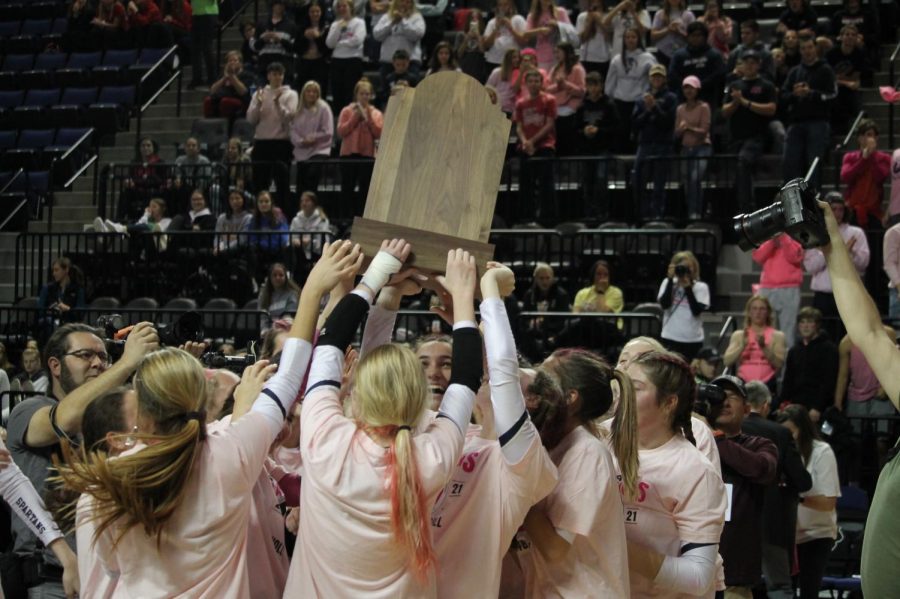 PV's persistent efforts dominate fall sports
Over the duration of the 2021 Iowa high school fall sports season, many of PV's athletics programs have risen to the top, defeating several competitors in the area. 
After a rocky start to the football season, the Spartans found footing and noted valuable wins against Dubuque Senior (28-14) and 11th ranked Cedar Falls (42-14). 
Although gaining confidence and chemistry does not always come easily, senior S.J. Brecht provided insight on PV's huddle during Friday night football games. "Coach Van always gets us hyped up for the game, standing out on the field, representing my team… It is something I will never forget," Brecht said. "That being said, I do my best to motivate my teammates and build confidence prior to our games."  
Battling in the quarterfinals Friday evening, the Spartans faced West Des Moines Valley and second-ranked tight end in the nation, Notre Dame commit Eli Raridon. 
Setting the stage for winter sports at PV, the women's volleyball team recorded the program's first-ever 5A state championship in school history, adding a third tally to PV's 2021 state champion teams.
Sweeping the Cedar Falls Tigers (26-6) in the 5A state championship, the Spartans (33-4) were led by an experienced fleet of seniors.
PV middle blocker Alexa Frankel, depicted what it was like to win her first-ever state championship as a Spartan. "You know, playing for this team has provided me with many opportunities and I have loved finding success within my teammates," Frankel expressed. "Through our highs and lows, we should collectively be proud of the fact that we are the first ever PV volleyball state champions." 
In retrospect, PV has found every way possible to bring home a state championship over the course of the 2021 school year. 
In addition to the football and volleyball's success, the girls cross country squad was points away from winning a state title. Having lost by only 24 points, the lady Spartans were without Grace Boleyn who underwent a leg injury midway through the race. 
With all eyes on PV athletics this year, fall sports have yet to budge from the top of Iowa's list of top teams in the state. Battling adversity, building chemistry and having loads of fun, PV is the school to beat when it comes to high school athletics!