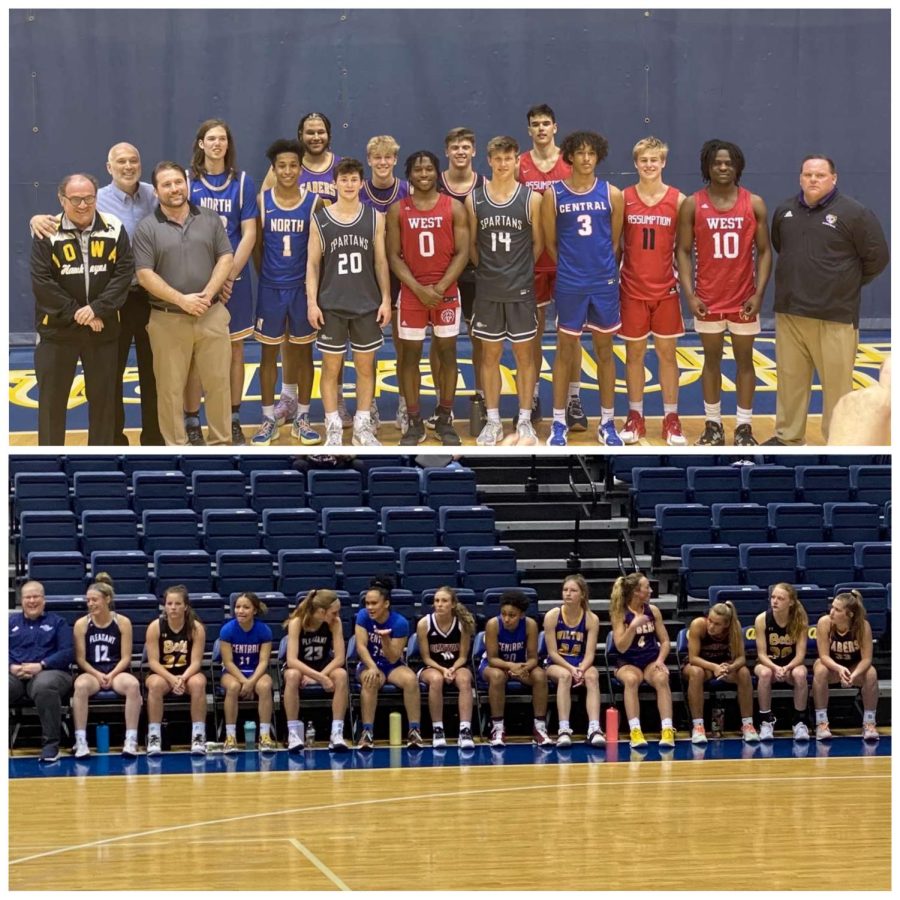 Above – Marcy Dolphin; Below – Addie Kerkhoff
Seniors represent PV at all-star game one last time
March 28, 2022
The last ride: Senior boys basketball players compete in all-star game
On March 21, two Pleasant Valley seniors had the honor of representing their school in the Iowa-Illinois All Star Game. With only 12 individuals selected from the Iowa side, Ryan Dolphin and Joel Lawlor were among the best in the metro area this past season. 
The two seniors were a part of a record-breaking Spartan basketball team. Dolphin and Lawlor helped the Spartan basketball team set the best single season record in school history at 22-1. Not only did they set the best record, but they also helped set the record of least points allowed per game in a season. 
The two basketball stars have been huge parts of the Spartan basketball program the past few years and were also  part of the team that traveled to state their junior year. Aside from the basketball program's recent success, the two star players were able to make an impact on an individual level as well. 
Dolphin made his impact on the team by being the team's leading scorer and a captain for the Spartans. Dolphin has had lots of experience on the varsity level as he is a four-year player and a three-year starter. A majority of his success comes from the work he puts in outside the high school basketball season. Dolphin has been playing since he was 5 years old and also plays travel basketball during the offseason where he works on polishing his skills.
Dolphin was thrilled to hear that he had another opportunity to play high school ball again. "I was extremely excited when I was selected," he said. "It's a great honor to be able to represent the Iowa side and to be able to represent my school and wear my jersey one last time."
The second senior, Joel Lawlor, was another key player in the Spartans' recent success. This past year, Lawlor was the team's best defender and also served as a captain for the Spartans. Lawlor's dedication started when he was 4 years old and introduced to basketball. During the offseason, he plays on a travel ball team every spring and summer to sharpen his basketball skills. 
Lawlor has been a three-year varsity player and was excited to hear about the opportunity to represent the hard work he put in as a high school basketball player. "More than anything I was just happy to play one more high school game," he said. "It was amazing to play with one of my teammates from PV and to have my family and friends there one more time to end my high school career."
Dolphin and Lawlor have found great success in their high school basketball careers and finished off the season leaving a mark for future generations of the Spartan basketball program. Their basketball careers will not stop in college as Dolphin will be continuing his basketball career at Coe College and Joel Lawlor will be continuing his at Loras College in the same conference. The two stars look forward to facing off in the future, this time on opposing teams.
Leave a Comment
Spartan girls basketball stars shine in their all star game
On March 20, the annual girls basketball all-star game took place at Augustana College. The top players from the Quad Cities meet for challenges and a full game against one another. Pleasant Valley sent seniors Addie Kerkhoff and Megan Schiltz. 
The game is set up Iowa versus Illinois. Teammates and former opposition join forces to compete against the other state. This offers a fun but competitive way for these girls to play one last time. "I really enjoyed playing with girls that I have competed against for years, and getting the time and place to truly get to know each other," Kerkhoff said. In many cases, the girls have known each other for years but have always played against each other. Now, they get to team up together for their last battle against a common opposition. 
Year after year, this game has been treasured by the players. "It's awesome to be part of such a great group of girls," said Kerkhoff, " It's really cool to not just represent PV, but also the MAC conference and the Iowa side of the Quad Cities as a whole." The girls get to go represent their respectable schools during this time. Being a part of this game is truly special and something that the participants will cherish for years to come. 
Representing PV is a huge part of what makes this all-star game so important to the players; however, it is not the only great thing the game has to provide. "I really appreciated having one last chance to represent PV, but also to play with the people that I have grown up playing basketball with my whole life," said Schiltz. The way that these players get to complete their high school career as teammates instead of opposition is something that many love. 
The all-star game is a great way for teammates and opponents alike to team up with each other for their final game. The community gets on last time to watch the coaches and players show off their skills together. The all star game is a great way to celebrate these girls' fantastic careers for their schools.
Leave a Comment