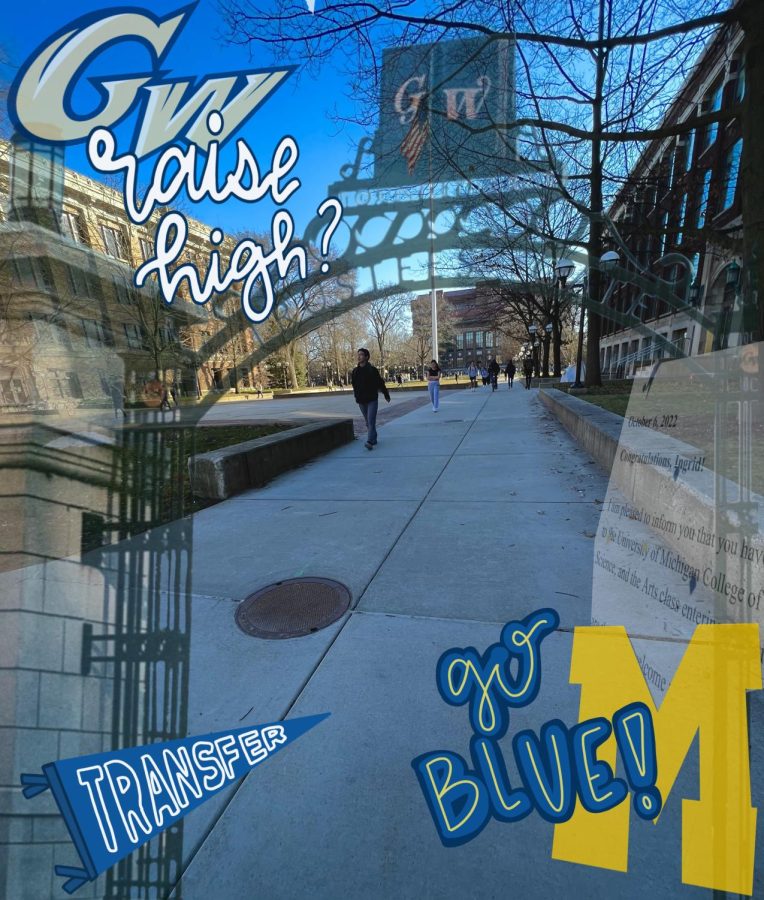 Ingrid Hofmann – Campus Capture
Beyond its allure as a Big Ten school and its dubbed nickname as a Public Ivy, the University of Michigan truly boasts a thriving campus with flourishing opportunities and a diverse student body full of prideful students. 
For many students pursuing post-secondary education, there is a misconception that their future 4 years are determined for them by a decision that comes during their senior year of high school. However, Pleasant Valley's Class of 2021 graduate and college sophomore Ingrid Hofmann had an unconventional journey to Ann-Arbor — the place she now calls home.  
Hofmann first enrolled at George Washington University in Washington, D.C. to dually study Spanish and Political Communication, a major that is unique to GWU. Despite being surrounded by incredible, knowledgeable professors, Hofmann quickly realized that the program at GWU was not what she was looking for. 
"I quickly realized that I didn't enjoy that major and that I would rather study Political Science and Spanish instead. After reviewing the Political Science program at GWU, I ultimately decided that it wasn't the best fit academically. I wasn't a fan of how the major was organized and the breadth of the coursework," Hofmann stated. 
Hofmann is grateful for her time at GWU, with its incredibly rewarding courses, wonderful people and central location in the capital city of Washington D.C. However, Hofmann recognized aspects of a college environment that she was missing out on, which led her to search for a school that checked all of her boxes. 
"Going to school in Washington, D.C. is truly an amazing experience; however, I started to crave a more traditional college experience with school athletics, a campus culture, etc. I was looking for a school that had great academics, but also had an engaging campus culture."
Taking the proactive step of transferring was just what Hofmann needed. While conducting her research into Michigan, the prospect of attending reignited a spark that had previously been diminished. "Academically, I really enjoyed the way that my majors were structured, and I also was very excited to see so many opportunities for research, including one specifically geared towards transfer students," Hofmann stated.
College transfers are not unusual, with an average of 2.1 million college students transferring between institutions every academic year. But Hofmann recognizes the push factors of college transfers — factors like devoting extra hard work to applications and financial costs that might deter students from transferring. Often, people are also discouraged by the misconception that transferring is synonymous with essentially "starting over," and this was in the back of Hofmann's mind too.
"I know that was one of my biggest fears before transferring to Michigan; however, there are so many wonderful opportunities that exist and as long as you are willing to put yourself out there and engage with these opportunities, you will find your place and create new possibilities for yourself," Hofmann added.
With hard work, dedication and a strong support system of family and friends, the transfer process has been extremely rewarding for Hofmann. Her advice to college students dissatisfied at their current school: "If switching will make someone happier, then I say go for it. College is supposed to be a transformative experience and some of the best years of your life… don't squander it somewhere you are deeply unsatisfied."
Now, Hofmann is happier than ever at the University of Michigan, a school beaming with school pride, excellent academics and thriving athletics and campus life. Hofmann fits right in with the rest of the student body, consisting of individuals who are constantly pushing themselves to be the best in their respective fields while also being a very outgoing, social school – whether it be sports, organizations or clubs. 
"The University of Michigan is also a super social school; there is always something going on. Sometimes it's going to a football, basketball or hockey game, other times it's going to an impromptu snowball fight on the Diag," Hofmann continued. 
"I think what truly makes it the perfect fit for me is that it engages me on so many levels, in the classroom, with friends, and in extracurriculars – I'm definitely never bored. While GWU is an amazing school, it just wasn't right for me. I love being at Michigan… Go Blue!"