Trade war or tariff war?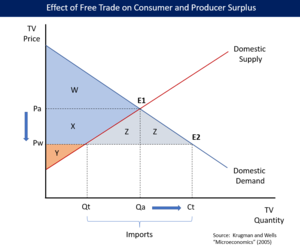 Hang on for a minute...we're trying to find some more stories you might like.
President Donald Trump made a big point on the campaign trail about cutting the country's trade deficits. "US trade deficit hit $64B+ in April, 2 yr record high," Trump tweeted out on June 4, 2014. "We must do better. China is ripping us. Bring the jobs home!"
With both sides having struck initial blows, the United States has imposed tariffs on imports of steel and aluminium, turning the old warnings into a bitter reality. There are a few potentially temporary exemptions for countries relying heavily on the exports, not including China and several other nations.
For its part, China has struck back with tariffs on U.S. goods including pork, wine, fruit and nuts. However, most noticeable was China's threat to further boycott American goods. This threat could backfire quickly on China's market, which is dominated by Nike, Chevrolet and Apple products. Even though it has strong ties with Japanese, South Korean and Philippine products and companies, China's economy may not be able to withstand the loss of so many American goods.
Politicians and news outlets started reporting on the series of different skirmishes, calling it a trade war and warning of its impacts on everyday life. But when exactly does this back and forth become a trade war?
The truth is, there is no true definition on when to call taxes and tariffs imposed on products from different countries a trade war. However, when the amount of trade affected by these measures rises significantly, speaking about a trade war no longer seems unlikely.
"Tariff wars have a tendency to expand," said economics teacher Eric Crawford. "The more they do, the higher prices get, the less purchasing power every individual has."
Should people begin to worry? "No, only if the United States or China engage in more drastic measures," said senior Adarsh Manosh. "That could then start to severely impact our daily lives, until then I think it should be treated as what it is, a tariff war."
Expert opinions vary, but keeping an eye on the problem is important as it continues to escalate.
About the Writer
Ricardo Meyer, Feature Editor
My name is Ricardo Meyer. I am a senior at Pleasant Valley High School and the Feature Editor of the Spartan Shield Online. After Graduation I plan to...