Violence rocks local schools
Hang on for a minute...we're trying to find some more stories you might like.
When tragedy strikes it's easy to think of our school and our city as safe, almost untouchable. However, in today's day and age with the easy access to firearms, is any city truly protected from the dangers of guns? As the school year begins and gun threats appear closer to home, the topics of school safety, student safety, and preparation for possible threats are brought to the table.
On Thursday, August 30th, Moline High School administration sent out a message on Facebook alerting parents that there would be a strong police presence at school in response to posts made on Snapchat by Moline students. These posts involved gun threats made towards the school. Days prior to the threatening snapchats, two groups of students had been fighting, which lead to the threats being made.
Administration told the parents of the students that the students wouldn't be punished if they chose to stay home stating, "Unfortunately, in the world in which we live today, we have to take every comment posted seriously." Moline freshman, Logan Sebben, chose to attend school that day commenting, "I felt safe attending school because of the amount of police there and the steps my school takes for our safety."
The following day after the scare at Moline High School, on Friday, August 31st, a 12 year old boy from North Scott was charged with attempted murder after bringing a .22 caliber handgun to the middle school. No shots were fired as a female teacher was able to talk down the student, and he is now being held in the Scott County Juvenile Detention Facility.
Last year on September 26th, Davenport North and West schools went on lockdown as a precautionary measure after sightings of "a suspicious subject" who was thought to have a firearm. Even Pleasant Valley went on lockdown last school year due to an armed robbery down the road at the Devils Glen Hy-Vee.
This year Pleasant Valley has started taking more steps to ensure its students safety. The school will be introducing an app to anonymously report threats. After locating the state, city, and school in the app students will be able to report on any threatening behavior overheard or witnessed by another student. The app can be used for reporting harassment, bullying, shooting threats, and many other situations. Pleasant Valley deputy, Chad Weipert, constantly looks for ways to improve school safety by taking every threat reported seriously.
Weipert explains the protocol for dealing with possible threats saying, "If a student is reported as a possible threat we get our threat assessment team together and do a search of the student's locker and vehicle. The parents are notified, and we do a search with consent from the parents on the house. We check if the student has access to any weapons, and check through their social media. If it turns out to be a credible threat, we will take whatever steps necessary to evaluate that threat."
Weipert and the rest of the staff at PV High School will continue to look for ways to improve safety measures at school this year by going through safety procedures, adding surveillance cameras, and continuing the ALICE drills.
About the Writer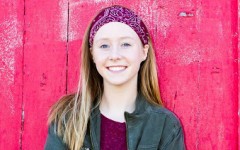 Maya McClain, Photo Manager
My name is Maya McClain, I'm one of the Photography Managers. I enjoy spending my free time taking pictures in and out of school. You can usually find...