Miss America: It isn't about the bod
Hang on for a minute...we're trying to find some more stories you might like.
Miss America happened on Sunday, and just like every year 52 women competed for the Miss America title. A few things were different though. For example, this year the pageant was held in New Jersey at Boardwalk Hall.
Though the location was different, that is not the only difference to focus on. People called it Miss America 2.0, because this year ladies were not required to be part of a swimsuit competition. Believe it or not, Nia Franklin was crowned Miss America and did not have to appear on stage half naked in a bikini. Briggett Tribbett, senior at Pleasant Valley said, "This is a step up from the past pageants because before, our nation, knowingly or not, would objectify these women and create a 'what you should look like' image."
Here at PV there is a group that goes by the name GLI, Girls Learn International. This group holds meetings weekly and comes together to talk about how society is constantly changing and the problems women and girls face everyday. They come up with solutions to help make the world a better place for women and emphasize how girls everywhere can take action.
Lily Williams takes part in GLI and said, "Contestants and viewers have asked for many years to change the swimsuit competition. I believe that Nia Franklin is the beginning of a new generation of females: awarded for her intelligence, talent and grace as well as beauty. The removal of the swimsuit competition recognizes a role model should not be objectified and judged by the idea of a 'perfect body'."
It is great that girls here at the school feel a change in our society with decisions that were made so far from home. This change has brought light upon the well known saying "don't judge a book by its cover."
The appearance of a book does not let you know enough about what's written inside. The Miss America pageants' change in guidelines spreads a wonderful message to people around the nation. "[Miss America] finally gave those women the chance to be seen for what's on the inside," Tribbett said. That is what should really matter.
About the Contributor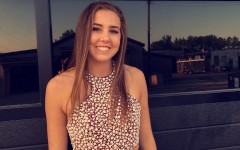 Hope Sickels, Staff Contributor
I'm Hope Sickels, a part of the 2019 class. I'm a Staff Contributor for the Spartan Shield Online this year. I've attended PV since kindergarten and...