Presidential alert trial run
Hang on for a minute...we're trying to find some more stories you might like.
A trial run of the Emergency Alert System resulted in the first Presidential Alert sent to cell phone owners across the US on Oct. 3.
On Wednesday, a notification was sent out to a vast amount of mobile phones, radios and televisions all across America, titled "Presidential Alert". It read, "THIS IS A TEST of the National Wireless Emergency Alert System. No action is needed." This alert posed a few questions and confusion to some.
This type of alert is not one a user can disable, contrary to weather or Amber alerts. It was simply a trial run to test how they would be received in case of an emergency. The alerts will serve to communicate any information the government deems as imperative public knowledge.
The alert was sent out by the FEMA (Federal Emergency Management Agency). The FEMA  was formed due to an executive order issued by President Jimmy Carter. It merged many of the disaster-related responsibilities held by individual groups to create a more concise, larger group ultimately serving to protect American citizens.
Wednesday was the first ever test of the warning system. However, it was unable to reach every cell phone user due to some not being close enough in proximity to the towers emitting the transmission or due to non-compatible cell phone providers. Lilly Parker, a senior at Pleasant Valley High School, was one of the few that did not receive a notification on her mobile device. She commented, "the presidential alert is a good idea because people are constantly on their phones and it's a good way to spread a message nationwide quickly."
In regards to her own understanding of what the notification truly was, Gillian Geist, a senior at Pleasant Valley High School, said, "honestly when I first saw it, I thought it was an Amber alert. I knew it was going to happen but I didn't register what it was." She went on to say she had no idea what the alert is meant to be used for.
In contrast, Debbie Claussen, a teacher at Pleasant Valley High school said she didn't believe the alert to be sent out by the president himself, unlike many of her peers. She was also not caught off-guard by the alert because she had previously read about the notification and knew it was coming. She stated, "I think it's a good idea if there's a national emergency so everyone can be notified immediately."
About the Writer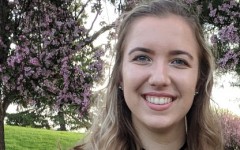 Alana Woolison, Photo Manager
My name is Alana Woolison and I am one of the photo managers for the Spartan Shield. I love being outdoors and have a cat named Chase. I have an older...