Spartan safe snack list
For the 2018-2019 school year, Pleasant Valley has implemented new guidelines for snacks that are allowed to be brought to school. The updated Spartan Safe Snack List includes snacks that students may bring to share with the class that are nutritious, allergy friendly, and meet the guidelines of the USDA Smart Snack Standards. These snacks must be a food item that is included on the list and can not be homemade.
Items on the list include fresh fruit or vegetables, fruit snacks, pudding cups, baked chips and goldfish. As far as beverages, plain water is the preferred drink because it is healthier than juice drinks which contain high amounts of sugar.
In November of 2017, the PV district health and wellness advisory team sat down to discuss new guidelines. There were a few concerns from parents regarding what snacks were allowed to be brought and shared in the the classroom. In the past, PV had a snack policy that mainly consisted of only nut-free products.They spent some time looking around the community to see what other school districts were using as guidelines for shared snacks.
After sitting down and discussing the topic, they agreed that USDA Smart Snack Standards would provide a variety of snack options that were healthy and allergy friendly. Other school districts that have a similar plan include Cedar Rapids, Iowa City, Dubuque, Johnston and Ankeny. The new Spartan Safe Snack List may be a drastic change for both students and parents that were used to baking homemade treats to share with the class. However, this list was established to make the health and safety of Pleasant Valley students a priority.
The Spartan Safe Snack List effects what students can bring to share with the the class, but it does not restrict any food that a student brings to lunch. Director of Elementary Curriculum, Cindy Lewis, mentioned, "if they are going to bring a snack to share with other children we want to guarantee families that it would be a snack that would come from the Spartan Safe Snack List." This provides the parents and students with reassurance that the snack is an option that is safe and healthy for the students to eat.
The establishment of the Spartan Safe Snack List will also change some traditions of holiday parties. Candy is no longer allowed to be shared in the classroom at holiday parties, but students may bring snacks included on the safe snack list. Lewis encourages families to also bring non-food items that can be apart of the celebration as well. Engaging students in fun activities can be a great way to have fun in the classroom without sharing unhealthy snacks.
Hopewell Elementary nurse, Kim Zupancic, was one of multiple nurses that helped revise the Spartan Safe Snack List. She claimed that not only does the revised list benefit those with allergies, "but it also addresses the rising levels of obesity in Scott County. The habits they learn as children will influence lifelong dietary habits." The Spartan Safe Snack list is very beneficial to the students and also allows opportunities to celebrate in other ways.
About the Writer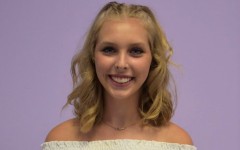 Haley Moore, Video Editor
My name is Haley Moore and I am the video editor for the Spartan Shield Online. I enjoy making videos and expressing my creativity through editing and...