It's time to clear the air: teachers and politics
Hang on for a minute...we're trying to find some more stories you might like.
In light of the election season, political subjects and beliefs are being discussed in the hallways and classrooms within schools. With both students and teachers being involved in some of these conversations, many students are questioning the amount of political views and opinions teachers can be sharing in class.

Sophomore, Callie Morton, discusses her confusion about whether teachers are allowed to talk about politics in class. "Lately, a lot of my teachers have been discussing politics in class. Many have expressed their political beliefs in class and it confuses me because I am unsure what teachers are and aren't allowed to say regarding politics to their students," she said.

At PV, the policy for teachers to speak about political matters and other controversial issues is officially written under the Educational Program Series 600. This section discusses points relating to educating students about controversial topics and expressing opinions about them.

The policy defines a controversial issue as being "an area of significant academic inquiry about which substantial segments of the citizens of this community, state or nation hold sincere conflicting points of view." This definition includes politics and other social issues.

Overall, the policy states the school board's wishes for teachers to educate their students about controversial issues through the spirit of "honest academic freedom." The school board believes teachers should fairly present all points of views of the topic; the students should then take the unbiased information and develop their own opinion through the study of facts.

Government teacher, Trever Zahn, commented on his role in developing his students' political opinions. "

"

In my position, I am always focused on the fact that I want to make sure that I give the most unbiased presentation of what's going on, so students can understand the full picture. I know during election season a lot of people get fired up about some of these controversial topics"

— Trever Zahn

," he said.

The policy also stated that teachers should not treat students differently for having opposing opinions and they should be there to protect their students' rights to have their own opinion. Teachers and other faculty members should encourage discussions in class about controversial topics because it allows students to formulate and understand different point of views.

Contrary to popular belief, as long as teachers understand the responsibility they have to refrain from "advocating partisan causes, sectarian religious views, or selfish propaganda of any kind through any classroom or school device," teachers at PV are allowed to express their personal opinion. If they express a personal belief, the teacher must encourage their students to reach their own decisions independently.
About the Writer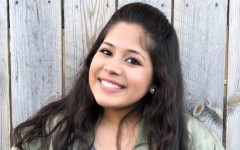 Angela Pandit, Social Media Manager
My name is Angela Pandit and I am the Social Media Manager for Spartan Shield Online. I love to be involved in our school and community through various...