New lot, recurring issues
Hang on for a minute...we're trying to find some more stories you might like.
With the new addition to the high school came a new parking lot. The "A" lot has now opened and is available for juniors, seniors and teachers. The row closest to the building is reserved for teachers and handicapped parking. Upperclassman have the rest of the lot for themselves.
On Thursday, a handful of students parked in the teacher's parking spots. All of the cars in teacher parking spots were ticketed and forced to move into a spot reserved for students.
The consequences for parking violations go as follows: First violation is a $10 ticket, second is $15 and the third is $20. If a student were to receive all three strikes, the fourth would result in H&H Towing. If a car is towed, there is a $125 plus tax cash only retrieval fee.
Principal Mike Zimmer wants to emphasize that there are plenty of student parking spots and no student should have to take up a spot a staff member's spot. "PVHS is proud to have expanded student parking to accommodate almost everyone. It remains unfortunate that even with all of this expansion, students continue to park in areas reserved for staff," said Zimmer.
Rebecca Hinman, a secretary in the office, had to call down the students that parked in the teacher spots. She'd say roughly ten students were forced to move their car into an appropriate spot on Thursday. "I think right now it's just those students that may have failed to read the announcements and I'm sure they just don't know yet," said Hinman.
Senior Elle Beeler parked in the "A" lot Thursday morning. Having seen the announcements during study hall on the TV in the Spartan Commons, she was aware of the rules set in place and she did not get ticketed.
Juniors and seniors' thoughts on the new lot are mostly positive. "It's so much closer to the doors so when it's freezing I spend a lot less time walking into school," said Beeler. But she also expressed how she wished it was only for seniors since it's not that big to begin with.
About the Contributor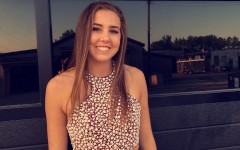 Hope Sickels, Staff Contributor
I'm Hope Sickels, a part of the 2019 class. I'm a Staff Contributor for the Spartan Shield Online this year. I've attended PV since kindergarten and...