Countless resources provided by the library
Hang on for a minute...we're trying to find some more stories you might like.
One of the most overlooked services at Pleasant Valley High School is the library. It is useful beyond book checkout and studying. The library also offers various resources such as research consultations and help with papers.
While the library provides access to technology and a quiet place to work. Librarian, Carissa McDonald, stated, "We also take book requests and offer the opportunity to participate in book club. Finally, students can receive research support, whether in the form of materials or one-on-one conferences."
The library is open during every school day from 7:45 am-3:45 pm and students can drop in to ask McDonald questions. However, it is recommended to make an appointment for a more personalized session such as a research consultation or help on a paper. Senior, Libby Staver, stated, "I enjoy using the library because they offer so many resources and a quiet place to sit and get work done."
The library is used in a variety of ways. Some students drop in every day to take advantage of the quiet work space or to use it for collaboration with other students. Others take advantage of the library only when a big assignment is due or towards the end of grading periods. However, some students have never even been in the library. McDonald stated, "This makes me sad, not for me, but for them. Not only do I want students to enjoy their time in the library, but I also challenge students to find books—at least one—that move them or somehow challenge or change them before they leave high school."
The library has a wide variety of books, comics, newspapers and magazines available to students. In order to attract attention to the variety of books, librarians often rotate books on display to give students the opportunity to see some of the great reads PV's library has to offer. They also sometimes wrap books and challenge students to check one out, even though they do not know what it is. This encourages students to step outside of their comfort zone when reading and makes the experience of checking out a book more fun and unique.
About the Contributor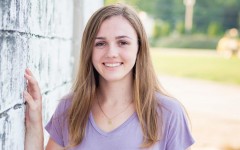 Danielle Nauman, News Editor
My name is Danielle Nauman and I am the News Editor for the Spartan Shield online. I have a younger brother and enjoy spending time with my family and...