Pleasant Valley Boys swim team catches fire
Hang on for a minute...we're trying to find some more stories you might like.
Though there's a lot of swimming left, the Pleasant Valley Boys Swim Team is starting to heat up. They have turned in strong performances in the past two meets and have started to be noticed by other teams, and currently sit third in the team power rankings.
On Dec. 8, the swim team competed in their fourth meet of the season, the Marcussen Invitational, at Holmes junior high school in Waterloo, Iowa. They were against several heavyweight schools, such as Waukee, Dowling Catholic, and Cedar Falls. Waukee, in particular, was an important school to knock off, as they are one of the favorites to win state.
However, the Spartans came out guns blazing and never let off of the gas. Senior Captain Jacob McCredie said, "We started off the meet by winning the medley relay, and that set the tone for the rest of the meet." The team overall had a very good showing, with several PRs, and won the invite.
On Dec. 15, the swim team competed again, this time in Iowa City through the Little Hawk Invite. This time, the team to beat was Ankeny, who is currently ranked first in the state. This time, the team didn't do quite as well, with a second place finish. However, by finishing in second place, Pleasant Valley was able to finish ahead of Bettendorf and Iowa City West, who are also vying for the state title. According to Junior Nate Martell, this meet was also a good omen for the things to come. "Everybody had good swims and we had some great time drops. This team has a lot of potential, and I'm looking forward to the upcoming meets."
As a result of these meets, the team has set its goal high for the state meet. McCredie explained, "We are really excited for state because this year's senior class has a lot of fantastic swimmers and we are driving the whole team to get faster. We set a goal to get top 5 at state, which would be the best finish for the team." While there is still a lot of swimming left in the season, The Pleasant Valley swim team is well positioned to achieve their goal.
About the Writer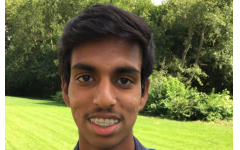 Shashank Inampudi, Photo Manager
Hello! I'm the photo manager for this year's Spartan Shield. I'm in charge of making sure all the articles you see have relevant and well placed...