Winter time volunteering for PV students
Hang on for a minute...we're trying to find some more stories you might like.
There are many reasons to be excited when winter rolls around. People look forward to setting new goals for themselves and having a great new year. However, there's one more reason to be excited this winter: volunteer opportunities.
There are numerous opportunities that students can take to volunteer this winter season. Some people in the Quad Cities are not as fortunate as others, and there are many ways in which we can help.
One program that students can sign up for is the Snow Angels program. This program provides adults and kids alike the opportunity to help the elderly and disabled of Davenport by shoveling their driveways. This assistance is invaluable to them as they are unable to complete these tasks themselves.
The program is also very flexible with how they schedule people and they are able to adjust to others' schedules. According to the City of Davenport website's Snow Angel page, volunteers who are unable to commit to an entire winter season of volunteering due to planned vacations or similar events, all people are welcome and will be placed on an on-call list to provide service on as needed basis. This means, even if someone is gone for part of the season, they can still be on the list of volunteers when they are available.
There are plenty of other opportunities to help those in need, and all you need to do is look for them. PV's emphasis on service learning is something that many schools don't necessarily have. The significance placed on helping others is something that sets our school apart. Teachers are very proud of the way our school encourages volunteering and the desire for students to get involved in their community. Students understand how important service learning is as well. Junior Kate Stewart commented, "The community is positively impacted by volunteering as well, whether it be within receiving help from students or meeting new people." Even those who have already graduated from PV know that the volunteering they took part in influenced the way they lived their lives afterwards. Vishwajit Subramaniam, a PV grad, stated, "I've learned that I need to play a part in the community I live in to make it grow and share my knowledge."
About the Contributor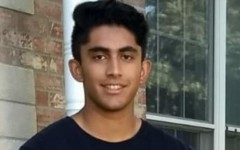 Joel Kachappilly, Staff Contributor
My name is Joel Kachappilly, I'm a Staff Contributor for the Spartan Shield Online, and I am a senior at PV. I am the oldest of two in my family. I love...