All About the Clout
Hang on for a minute...we're trying to find some more stories you might like.
The Headstrong Fund Challenge swept over social media recently. With a large range of athletes posting photos and nominating others to do the same. Most of these athletes, however, had missed the main point of the challenge.
The initial idea was for students to post a picture of them playing their sport then donate to the Headstrong Fund. Unfortunately, many students did not follow through on the second part of the challenge.
This Headstrong Fund Challenge is similar to the ALS Ice Bucket Challenge back in 2015. In both of these "challenges", students have jumped onto the social media bandwagon but forgotten the original cause behind the movement.
The Headstrong Fund is an organization by Nick Colleluori at 19 years old to improve lives affected by all types of cancer. The Headstrong Fund Challenge was started to raise money for Headstrong new fundraiser: Game Day Hair Havoc. A female lacrosse player, Stephanie Finley, was diagnosed with a rare form of cancer. Her family started Game Day Hair Havoc to raise awareness for cancer through the use of other athletes. They wanted students to embrace their ability to style their hair differently for each game since not all people had this opportunity.
It is important for students to follow through on these challenges on social media. With these types of challenges, it is easy to participate but lose sight of the original purpose. According to an Instagram poll I conducted, only 14% of students who were nominated for the headstrong challenge actually donated.
The challenge lost its initial message along the way. Now, when a student is nominated, they only post their picture, neglecting the donation. When supporting a cause by publishing it on social media, it is important for students to know what they are truly supporting.
Being aware of what one is putting on social media will always be an issue. In this case, awareness can encourage donating funds to those who need it. It is not too late to donate to the headstrong fund, and hopefully, students who participated in the challenge this weekend will follow through on their participation.
About the Writer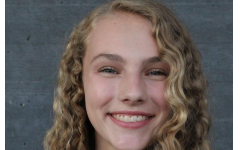 Alyssa Paulson, Photo Manager
Hello my name is Alyssa Paulson and I am a photo manager here at the spartan shield online. In my free time I enjoy playing the bass, piano, and participating...