Two PV students advance to state pageants
Every year the Miss Iowa Scholarship Program hosts pageants to select the next Miss Iowa and Miss Iowa Outstanding Teen. Extraordinarily, this year, Pleasant Valley has students competing for each of these titles: senior Mariah Martinez for Miss Iowa and junior Caitlin Crome for Outstanding Teen.
Both of these students had to win a local Miss Iowa-regulated pageant before moving on to the state competition later this year. Martinez found success at the Miss Cedar Valley 2019 contest on Feb. 16 while Crome was named Miss Greater Des Moines Outstanding Teen on Dec. 8, 2018.
Martinez has participated in three pageants after current Miss Iowa crown-holder Mikhayla Hughes-Shaw persuaded her to join the Miss Iowa program. Martinez met Hughes-Shaw in 2015 through Love Girls Magazine, a magazine both of them actively write for, and watching Hughes-Shaw's journey through Miss Iowa pageants led Martinez to hope to follow in her footsteps. Martinez then won the Miss Cedar Valley 2019 title, leading her one step closer to Miss Iowa.
As a 17-year-old, Martinez is the youngest contestant going for the Miss Iowa 2019 title and is also the only minority competing. Although she is seen as an underdog, she loves challenges and is very excited about the upcoming competition. She is appreciative of the girls who have helped her become more confident, saying "I am just a normal teen who met amazing women."
An interesting part of her pageantry performance is the talent she chose to showcase. While most contestants sing or perform an instrumental piece, Martinez chose to perform a monologue about inner-city schools and education. Education is very important to Martinez as she is thinking about going to the University of Northern Iowa to become an administrator. She loves working with kids and preparing them for their later endeavors. She said, "kids are creative and absorb things like a sponge and I'd love to help mold them into being successful and smart teens."
Apart from pageantry, Martinez is on the bowling team and works at HomeGoods. She loves volunteering and has volunteered at a variety of organizations, but has a soft spot for working with dogs and kids. She believes the Miss America principles of style, service, scholarship, and success are key values and seeks to exemplify them in her everyday life.
Crome started competing in pageants after former PV student and Miss Iowa Outstanding Teen Emma Kate Wichman saw potential in her and encouraged her to try them out. Although Miss Greater Des Moines Outstanding Teen 2019 was just her second pageant, she achieved the first place victory and won the Best Talent award with her dancing.
With pageantry being such a new experience, Crome appreciates the chance "to put everything I've learned to the test." The talent contest is her favorite part of the competition because dancing is the activity she feels most confident doing and she enjoys performing routines for judges and spectators.
In early February 2019, she was able to attend a Make-a-Wish gala and meet many children and their families. She thought the event was a great experience and looks forward to doing several similar activities later in the year with the Miss Iowa program. Having a little sister of her own, Crome enjoys being a role model for younger students and encouraging them to be confident and do things outside of their comfort zone.
Aside from pageants, Crome is on the Pleasant Valley Platinum Dance Team, runs for the track and field team, and has won back-to-back State championships with the varsity softball team. Becoming Miss Iowa Outstanding Teen 2019 would be an excellent addition to her already impressive resume and she is excited for the pageant this summer.
The competition for Miss Iowa Outstanding Teen is open for students between the ages of 13 and 17 and has 15-20 teens compete for the title every year. Miss Iowa is open for 18 to 25 year-olds and has around 20 competitors each year as well. The Outstanding Teen pageant is on June 14 while the Miss Iowa pageant is a three-day process, spanning from June 15-17. Both events take place at the Adler Theater in Davenport and are open to the public.
About the Contributor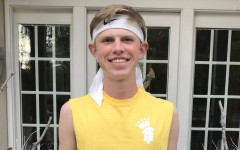 Alexander Haack, Arts and Entertainment Editor
My name is Alexander Haack, and I am the Arts and Entertainment Editor for the Spartan Shield Online. I am a senior and will be attending Iowa State University...