Student Hunger Drive's efforts continue with telethon
Hang on for a minute...we're trying to find some more stories you might like.
The Student Hunger Drive ends Nov. 1, but people are still going hungry. Pleasant Valley recognized this and joined forces with other area schools in a new event: the Student Hunger Drive Telethon.
Pleasant Valley plays a huge role in the Quad Cities Student Hunger Drive (QCSHD) every year, but the efforts to help the needy seem to halt after the Drive. This event was designed to raise awareness of this ongoing problem of hunger and simultaneously fundraise to help families throughout the community. A host of different schools will be participating in this event on April 26.
North Scott High School's student government came up with the idea of the telethon. However, in order to truly make a difference, they were going to need back up, so they contacted all schools participating in the QCSHD to help. Each school was asked to bring three acts to provide entertainment.
Pleasant Valley's three acts will consist of a string quartet, an improv group, and Spartan Assembly will also be performing. These acts will aid in the accumulation of donations; this is where the telethon takes action. The show will be live-streamed, so viewers will have the opportunity to call in and donate.
Susan Anil,a member of the Spartan Assembly executive team  is excited about the efforts going into this program. "The telethon is important because it is another way for area schools to unite and try to combat a serious problem in our local community and world," she said.
The efforts to help alleviate food insecurity are on-going, and this event is another attempt to gain support from local high schoolers and their families. Many students forget about the continuous issues of hunger after the Hunger Drive ends, so student governments in the area believe the telethon is a much needed reminder. Along with the telethon, Spartan Assembly raised over $300 in donations at the Spring Improv Night.
Aabha Joshi, a junior and a key member of the Spartan Assembly believes the issue of hunger hits closer to home than most PV students realize. "Many people in our own school and community are food insecure so this event will help raise money to provide them with food," she said.
Whether it be the QCSHD in the fall, the spring improv night, or the upcoming telethon, all of these events are raising funds and bringing awareness to the impending issue of hunger. Anil believes these programs and events are big steps in the right direction. "We are taking strides to hopefully someday eliminate the problem of food insecurity," she said.
Many hardworking individuals have poured countless hours into this event and are doing everything in their power to make a dent in the food insecurity in the community. This is one major step, but support is necessary from Pleasant Valley students as well as other students in the area.
About the Writer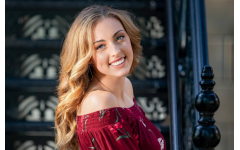 Abby Riley, Sports Editor
Hello, my name is Abby Riley. I am a senior at Pleasant Valley and co-editor of the sports section of the Spartan Shield Online. The past four years I...