25 things seniors will miss about PVHS
Hang on for a minute...we're trying to find some more stories you might like.
As the school year winds down and the senioritis gets worse, the class of 2019 must start saying goodbye to high school and saying hello to their post-secondary plans. While many seniors like to focus on the things they will not miss about PV, students may not realize the many things they will miss about high school. With only 25 days left in the seniors' high school careers, here is a list of 25 things seniors will miss about PVHS next year.
Driving to school and being guaranteed a parking spot, even though this is also a new luxury to the class of 2019

The seemingly endless number of Jeeps in the parking lots

Chicken mashed potato bowl, spicy chicken wrap, and Sidekicks

Seeing the new additions to the all-state musicians, athletes, and artists walls after coming back from spring break

Being greeted at the back door of the school by Tony Cox, Jason Roethler, or Frank DeMaria when students do not have a first-period class

Don Fry creeping up behind and scaring the daylights out of his former students

The absurd nicknames David Hult gave to his former students

Going through the stress of getting a group together, finding and buying an outfit, finding the prime location for pictures, and getting a dinner reservation for school dances

Not having trip-safe classrooms anymore since backpacks are allowed in college lecture halls

The student ID number they have had for their entire PV careers

Having enough time to get from one class to another

Every class being within a five-minute walk of one another

Only having to go up a maximum of two sets of stairs each passing period

Complaining to the gym teachers that their heart rate monitor is not accurate and getting the same response over and over again: "Work harder"

Bragging to others about how little they tried on the Pacer

Getting docked cooperation points for skipping a set of MVP Complex

Going to practice and meets with high school teammates

The lack of midterms at the end of each quarter

—

not applicable to Joshua Hoffman's physics class

Not having to compete with their classmates for a good curve on their tests

—

unless they were in AP Physics and have already experienced the "Spang Curve"

Getting to see the friendly faces of the Spartan Bistro every Friday

Knowing the names of everyone in their classes

Dropping in to say "hello" to their favorite teachers

Going to the same friends' lockers during the same passing period every day

Eating open campus lunch during finals days. Although every day in college is an open campus lunch day, the significance of these meals will quickly fade away.

Seeing the same familiar faces students have encountered in the halls for the past four—or possibly thirteen—years
About the Writer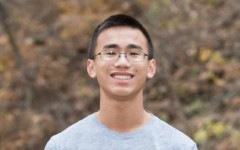 Nathan Wong, Opinion Editor
My name is Nathan Wong, and I am the opinion section editor for the Spartan Shield Online. I am a senior at Pleasant Valley High School. I am a captain...