Creativity in Honors English
Hang on for a minute...we're trying to find some more stories you might like.
Students in Don Fry's freshman Honors English class have just completed their Romeo and Juliet projects. Students were required to take a more creative approach to these projects and many students had a final project they are very proud of.
Fry rarely assigns projects, so when he does, he enjoys adding a creative element; he enjoys seeing the outcome. "We have some students that are so quiet and shy during class and it's just fantastic to see them really blossom out and create something they're proud to present to the class," he said.
He wants all students to expand their creativity when working on these projects because he believes it showcases a deeper understanding of the novel.
One of the nine possible options for the final project is to create a composition on your instrument of choice. Freshman trumpet player Ethan Belby composed a two-movement jazz composition intended to reflect two scenes from the play.
"I wanted to create music for both the balcony scene and the party scene because I like the contrast between the slow melodic romantic music and the faster dance music," he explained.
Belby began by finding a chord progression he liked then improvising over it until he found a melody he enjoyed. At first, Belby was nervous to present his project, but then he understood his true excitement for sharing the music he loved with his peers.
Alexis Boosalis went another route and she created a graphic novel. "I really enjoy creating art and I felt as though doing a graphic novel would also be fun for me," she said. The most difficult part of the process was capturing all of Romeo and Juliet in a shorter amount of pages.
Boosalis focused on staying as close to the original plot as she could, both in the text and drawings. She pulled up reference photos from the movie to work from and made multiple drafts to ensure accuracy.
Lizzie Mcvey was in a group with two other friends who all decided to do a parody video. She wanted to put a new twist on the plot and was excited to incorporate new ideas to lighten up the tragic play. "I love filming and editing so when I heard the parody option I was excited to do the things I love with my friends," she said.
McKay's group member, Ela Ersan, suggested they do a video based on the movie Jumanji, and they went forward with the idea. McVey is proud of her project and was glad she got to work on it with her friends.
There is one option very few students choose: making a dress. However, Grace Davidson however was up for the challenge, but wanted to alter the project a little.
About the Contributors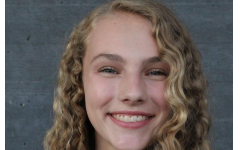 Alyssa Paulson, Photo Manager
Hello my name is Alyssa Paulson and I am a photo manager here at the spartan shield online. In my free time I enjoy playing the bass, piano, and participating...