Exploring Big Blue World: A robotics team provides opportunities for all students
Hang on for a minute...we're trying to find some more stories you might like.
The Pleasant Valley School Board recognized senior Alton Barber last week regarding his impressive achievement this past fall.
In October of 2018, Barber won the Hoover Uncommon Student Award, which was awarded to him for his original project entitled "Big Blue World."
To put it simply, the Big Blue World is a robotics program; however, this robotics program differs from others in the Quad Cities. Big Blue World serves as an inclusive group, open to all students regardless of learning differences. Learning differences can refer to a broad spectrum, from autism to ADHD. Barber described these learning differences as "anything that can limit or make the typical classroom setting more difficult."
Barber started Big Blue World two years ago after noticing exclusivity within the robotics teams in the area. "Growing up in the Quad Cities, we live with the sons and daughters of John Deere employees and doctors. [Therefore,] robotics teams are coached by parents who want "the best," leading to a lack of representation of students with learning differences," he said.
However, Barber was quick to refute the notion that those with learning differences are any less qualified for robotics or anything else in life. "This is my passionate belief: our students are more than capable of achieving anything that any other team or student is capable of."
As a person who grew up with robotics and competed in robotics competitions for nine years, Barber was especially upset about how exclusive the community was becoming. Through his experiences, he knew just how much of an impact robotics could have in a person's life and thought this opportunity for growth should be open to all. He expanded on his convictions. "I wanted to give the kids the opportunity to do something I have loved and that I know they will be improved by."
Big Blue World was quick in its start-up. Barber chose the name based on one of his favorite movies, "Finding Nemo," a movie he quipped he has seen "at least 1,000 times." He was inspired by Mr. Ray, the stingray who preached a message of trying new things, exploring, and working together to achieve something greater. In fact, Big Blue World's motto, "we swim together," comes from Mr. Ray.
Barber believed these principles were especially relevant considering the new steps many of these kids were taking. First of all, many were trying STEM and extracurriculars for the first time. Additionally, many had never been on a team at all before. Barber spoke about this. "For many, this is the only team they have ever been on. They have to learn about the team experience, about being a part of an organization that's bigger than them."
Barber encouraged any students to join and quickly added other fellow volunteers with robotics expertise to help him when the number of students involved of the program grew. His fellow leaders are Nihar Behere, Quique Riojas-Berzaluce, Srikanth Ganesh, Aditi Nachnani, and Madhumita Subramanian.
Barber purposefully chose leaders younger than him because he desires sustainability for the program. He wants this program to continue and spoke of his pride regarding his volunteers. "I want to keep bringing in new people; the idea is to sustain and grow. I'm glad I picked these volunteers; all of their volunteering is admirable."
Behere, a PVHS junior, spoke similarly to Barber regarding his desire to sustain the program. In addition, he wants this program to grow. "I definitely would like to see this program spread," Behere said.
Big Blue World's schedule consists of two weekly meetings–each an hour and a half long. Its season is from the beginning of the school year until December. Students involved prepare for FIRST, a robotics competition sponsored by Lego held on one day in December.
Barber explained how much success Big Blue World has had in the past at FIRST. Its past seasons, the team has won the Judge's Award and the Teamwork Award. Last season, the team once again won the Judge's Award. Barber was proud of his team for winning this award because it is an award he believes captures how well-rounded and passionate his team is.
However, for Barber, doing well at FIRST is not his main goal. Barber explained his outlook. "I'm proud of them no matter what. FIRST is not about winning like our community has [made it out to be.] It is about the experience. As a coach, I want to convey that I have pride and accomplishment [in them] whether [the robot] scores anything or not."
Barber believes the most important thing about this program is how the students involved have grown exponentially because of it. Barber reaffirmed this sentiment many times. He spoke of the many areas in which they experienced growth, from research skills to social relationships.
Barber told the story of Max, a young student who only said the words "yes" and "good" when starting the program, but who would make conversation and respond to questions in detail by the end of it.
Barber believes these skills have translated to school life. "The benefits from robotics have proceeded past solely educational benefits; now the benefits are in lifestyle things. [I have been told] there is a noticeable difference in their demeanor and attitude [at school]," he said. The students are especially excited on robotics days; many sport their Big Blue World t-shirts on days when robotics is meeting.
Barber was quick to turn attention away from himself regarding what he has learned throughout this process, explaining that this experience is not about him. "What matters most is what the kids learn," he said. However, Barber did say he valued how this program has given him teaching experience.
Behere's experiences throughout this program were also centered around the kids. "[It is] rewarding as a coach to see the kids' faces light up when a part of the mission that they've spent so much time on works."
Big Blue World's inclusive message is important for any community, whether the robotics community or the Quad City community as a whole.  As Big Blue World's motto states, "we swim together."
About the Contributors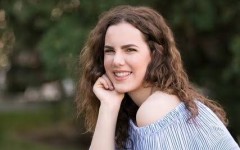 Sarah Danielson, Copy Editor
Hello! My name is Sarah Danielson, and I am so excited to be a copy editor on the Spartan Shield this year. As an avid lover of grammar, I am ready to...