Dancing with the Studs helps kick off the Student Hunger Drive at PV
As defending champions of the local Student Hunger Drive held each fall, Spartan Assembly members at Pleasant Valley High School have already begun their efforts to make this year's drive as successful as the last. The annual Student Hunger Drive Assembly was held Friday and featured the always popular Dancing with the Studs competition.
Dancing with the Studs is a friendly competition in which five pairs of senior students choreograph a dance routine to perform in front of the student body. Teacher judges determine a winning pair based off audience reaction, social media shares and pounds of food donated to the cause before the assembly begins.
While the performances drew laughs from hundreds of students and staff, Spartan Assembly members brought the assembly's purpose back to the forefront by reminding students that poverty and hunger are real issues in our community.
While the percentages of impoverished people is higher in other local districts, PV is home to many students who live with the effects of low income and benefit from the Student Hunger Drive. The Spartan Shield published an anonymous article written by a freshman student who falls into the approximately 10 percent of students at PV who live at or below the poverty level.
Below are the five pairs' performances at the Dancing with the Studs competition.

Belle Bormann and Brady Sexson–winners of the 2019 Dancing with the Studs competition.

Hannah Lederman and Nate Martell

Bradley Hamilton and Morgan McCartney

Megan Gropel and Matthew Brewster

Hunter Pieper and Nick Sturdevant
About the Contributor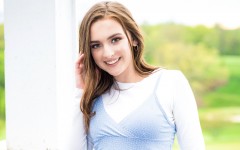 Maddy Licea, Editor in Chief
Maddy Licea, captain of the Sparkles cheerleading team and member of Pleasant Valley's successful tennis team, also spends her time modeling for the...