Reading for gratification, not just a grade
Many students view reading as solely a requirement in schools; however, to many it serves as a pastime. Simply picking up a book and reading for fun can result in improved academic and future performance.
The number of American children who enjoy reading for fun has dropped ten percent since 2011. With teens' screen time around seven hours a day, reading has clearly taken the backseat.
However, it is possible that most students don't realize the benefits reading for fun can bring.
Reading can lead to an expanded vocabulary, better memory, improved writing and greater general knowledge. Additionally, reading has been proven to lower the risk of Alzheimer's disease by two and a half times.
For students especially, reading can improve standardized testing scores, reduce stress by 68 percent and provide free entertainment at their fingertips.
Carissa McDonald, PVHS librarian, knows how important reading can be for academic success. "It [Reading] helps students internalize grammar and become better writers," she said. "This helps students in all of their classes, and it can also help improve ACT and SAT scores." 
Senior Megan Ripple is also an avid reader. "I choose to read for fun because I love the chance to experience new stories. It's just like watching a movie, but longer," she said. "I find that reading for fun has helped me read faster and has expanded my vocabulary."
Students wanting to read more can check out PVHS's own library, where 16,200 books are shelved, waiting for students to pick them up. There are a variety of genres and types of media, from fiction and non-fiction to magazines and newspapers. Students also have access to the public libraries, which all share materials through the Rivershare Library program.
Need inspiration on what to read? Each teacher has a sign outside their classroom with the book they are currently reading, which may interest students.
While time for reading can be difficult to find with students' busy schedules, the school has deemed it important to build 15 minutes into the school day for students to have silent reading time. This SSR (Silent Sustained Reading) time is fit around lunchtime, allowing students to have a break in the middle of their day to read.
McDonald agrees that reading is very beneficial for students. "If reading for fun isn't a part of one's normal experience, then it's time to change that," she said. "We are all strapped for time, but when it comes to our quality of life, we have to prioritize.  Make it a habit to spend 15 or more minutes a day reading."
In order to try and change the lowering statistic of teenage reading and improve academic performance, students can adjust their schedules to fit in reading. 
Ripple has figured out ways to read, even with limited free time. "I try to read even when I only have a little bit of time. Audiobooks especially help, because I can listen to them when I otherwise wouldn't be able to read, such as when I'm driving," she said.
As Dr. Seuss so aptly put in "I Can Read with My Eyes Shut!",  "The more that you read, the more things you will know. The more that you learn, the more places you'll go."
About the Contributor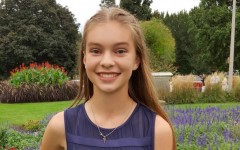 Morgan Miller, Copy Editor
Morgan Miller is one of the Spartan Shield Online's Copy Editors and is looking forward to writing for the Spartan Shield because she's excited to...