COVID-19 spikes on college campuses
When students at Iowa public universities returned to campus nearly a month ago, many of them instantly found themselves at the bars on campus – places which Iowa Governor Kim Reynolds failed to shut down in preparation for these students.
As students flocked to the bars, the number of COVID-19 cases in both Ames and Iowa City began to skyrocket, with Iowa as the worst state in the nation for COVID-19 cases per capita, per The New York Times.
On Aug. 27, Governor Reynolds made the decision to shut down bars, taverns and nightclubs by 5 p.m. in six Iowa counties – two of them being Johnson and Polk county, where Iowa City and Ames are located. Reynolds enacted this decision having said, "We made the decision to go forward with this because we wanted to get in front of a bad flu season and flatten that curve and reduce virus activity." 
However, some argue that this decision was too little, too late. 
Member of PV's Class of 2018 Madeline Patramanis was recently tested after two of her roommates tested positive, describing the testing process as much more difficult than necessary. Patramanis also noted that many of her peers are not taking the virus as seriously as they should: "[most people] haven't been super serious with the precautions," said Patramanis. "I still see people going out to restaurants and walking around the city without masks, even though there is a city-wide mandate." 
Patramanis credited a majority of the chaos and ill-preparedness to Governor Reynold's failure to plan: "I would mostly blame the governor for all of this," commented Patramanis. "I believe if she had done a better job containing the virus, the University of Iowa and Iowa City would have taken better precautions and have been more prepared." 
Patramanis is not alone in her ideas; member of PV's Class of 2020 Margaret Huang, who is a public health major, also believes that the virus has been poorly managed by both the city and the university. "Most of the students in Iowa city are carefully following precautions," Huang commented, "but many forget that not only are young people still susceptible to this virus, but they also forget that they have an obligation to stay safe for the sake of their community." 
Huang noticed that although Governor Reynolds shut down the bars at night, some restaurants, like The Airliner, are able to circumvent the restriction by advertising themselves as a restaurant that serves alcohol as opposed to marketing as a bar. 
Not only are bars able to sidestep these restrictions, but Huang has heard of several large house parties taking place on campus. She has also noticed that many students who are participating in these behaviors-such as going to house parties and bars to hangout or wearing masks improperly or not all-have not faced any reprimand: "These behaviors could be prevented by actually holding those who exhibit these behaviors accountable, either through fines, disciplinary action, or simple reminders."
Whether the spike in cases on campus at public Iowa universities is the fault of ill-preparedness by Governor Reynolds or the universities, there is no doubt that students are noticing, and participating in, behaviors and activities that are contributing to the rise of cases. 
About the Contributors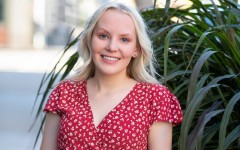 Ingrid Hofmann, Editor-in-Chief
Ingrid Hofmann is a senior at Pleasant Valley High School and serving as the Spartan Shield's Editor-in-Chief this year. She is a involved student, participating...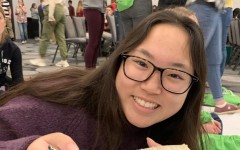 Margaret Huang, Feature Editor
Margaret Huang is a senior and the Feature Editor for the Spartan Shield Online. In addition to her Shield responsibilities, Huang is an active participant...