Administrators, students question benefits of Advanced Placement curriculum
Eight private high schools in the Washington, D.C. metro area have begun to phase out Advanced Placement (AP) classes, having started in 2018 and continuing until 2022.
These prominent schools began eliminating these classes in favor of more engaging programs, where curriculum is focused on "collaborative, experiential and interdisciplinary learning" rather than being devoted to AP exam preparation. In place of AP classes, the new curriculum puts more emphasis on real word applications in order to better prepare students for college-level courses.
At Holton-Arms School in Bethesda, Md., science teacher Patty Carver adapted her AP Environmental Science class into Advanced Global Applications in Environmental Science. Instead of spending the year preparing students for the AP exam in May, Carver now has devoted her class to more analytic, global thinking such as tracking water quality samples over the course of a few months.
With schools of such eminence scrapping AP classes in favor of what they consider to be a more beneficial curriculum, it poses the question: are AP classes actually benefiting students?
Pleasant Valley's Director of Secondary Education Mike Zimmer noted many PV graduates reported they were appreciative of the opportunity to take AP classes in high school. "Two and six year student graduate surveys consistently comment on how much their AP course helped them during their first year in college," elaborated Zimmer. Since AP classes are considered a college-level course, Zimmer highlighted the benefits students have felt they had in college by taking these advanced courses in high school.
Additionally, Zimmer emphasized the ability of teachers to "customize" their AP curriculum. While teachers must meet the themes and standards of an AP class, it is up to them to develop a curriculum they believe will best prepare the students for the exam in May. For example, PV teachers have elected to teach AP Language and Composition and AP Literature and Composition as opposed to offering a dual enrollment course-which comes with a pre planned curriculum.
However, during his time as PVHS principal, Zimmer recognized a negative aspect to AP classes: they are not always accepted by colleges, and they come with a fee to transfer to a college. This led him to incorporate several dual enrollment courses in the curriculum where he felt students could benefit the most.
Zimmer wanted to ensure the credits students earned in high school would be applicable to a majority of majors and schools, effectively knocking out some of the necessary credit hours. This ideology played a significant role in Zimmer's efforts to bring additional dual enrollment classes to PV.
PV still tries to maintain a healthy balance between AP and dual enrollment classes, recognizing the advantages and disadvantages each class style offers to students. Senior Owen Jones, who has taken a variety of AP and dual enrollment courses, appreciates the opportunity to take a variety of college-level courses.
Jones is grateful to have been able to take more advanced classes than what are generally offered and provide him with several benefits: more challenging classwork, better preparation for college, and, in some cases, the opportunity to earn college credit. However, he also acknowledged the cost of AP exams, which is $94, and the fact the credit requires a passing score (3, 4 or 5) on the exam, which is not always attainable for some students.
Additionally, Jones recognized the differences between the structures of the two class styles. "I felt like some of my AP classes I didn't really synthesize any information or learn anything besides how to take the test," Jones claimed. "While not all my AP classes were like this, I think because dual enrollments don't have an end of the year exam, you are able to focus more on the content." Although he found value in both classes, he wishes there was additional emphasis on content in AP classes. 
While Jones understands why some schools may want to break away from the AP program, he also sees the need to keep it as well. "Every student wants to pursue different opportunities after high school," Jones explained. "I think it is in the best interest of the school to continue having both AP and dual enrollment classes to give students different options." Jones believes it is important for the school to give students the choice of how, and if, they will accumulate college credits.
While the answer of whether or AP classes are beneficial differs on a student-by-student basis, it is evident the curriculum will remain an option for students hoping to attain college credits while in high school.
About the Contributor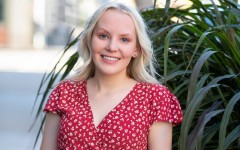 Ingrid Hofmann, Editor-in-Chief
Ingrid Hofmann is a senior at Pleasant Valley High School and serving as the Spartan Shield's Editor-in-Chief this year. She is a involved student, participating...