Seasonal depression impacts students during COVID-19
As December approaches, the change in season signifies a change in time. Colder temperatures and longer nights are beginning to magnify for people who suffer from Seasonal Affective Disorder (SAD).
SAD is a seasonal depression that most commonly occurs over the winter. The limited amount of sunlight decreases levels of Vitamin D, which can worsen the symptoms for those who struggle with seasonal depression. Other cues that are linked to SAD are overproduction of melatonin and or lack of serotonin from neurotransmitters.
The depressive episodes experienced by people who suffer from this disorder often lead to social isolation. Whether it be days or weeks, being left alone with intrusive thoughts can be very detrimental to their mental health. In some occurrences, a person's life may be at stake. Approximately 3 percent of the population suffer from seasonal depression and 6 percent require hospitalization.
For senior Emma Nelson, the transition from fall to winter takes a huge toll on her mental health. "It can be very draining," she said. "At times, talking to people takes up too much energy. Yet, my moods only worsen when I'm alone."
The COVID-19 pandemic has globally affected people's lives. The loss of jobs and loved ones has not been handled well by the public, and a rise in substance abuse, depression and anxiety have impacted many peoples' well being.
"The ongoing pandemic is definitely going to intensify seasonal depression for a lot of people," Nelson said. "After months of limiting social interactions with family and friends, adding seasonal depression to the equation is scary to think about."
Despite the surge in loneliness, there are a variety of mechanisms to assist anyone coping with seasonal depression during the pandemic.
One way of staying motivated is to create a routine. This enables structure and takes away time to be left alone with disabling thoughts. Tasks like making sure to get up around the same time every morning prevents people from falling into a cycle of oversleeping.
Aside from planning a routine, physical exercise and engaging in hobbies can be crucial to pass by time alone. Painting, pottery, puzzles, drawing or anything involving crafts are known to be therapeutic. Studies suggest that art is linked to lowering levels of anxiety and depression.
Senior Raegan Stein participates in pottery for similar reasons. "For me, throwing a slab of clay everyday is an anxiety reliever," she said. "Ceramics distracts me from reality and gives an outlet for myself to express my individuality and emotions."
Although the pandemic enforced limited interaction, the most important thing is to make sure everyone knows they're not alone. Nowadays, friends are only one call away. Contacting loved ones through zoom meetings, facetime calls, and group chats allow many to connect with others which in return, builds a support system that strengthens emotional health.
About the Writer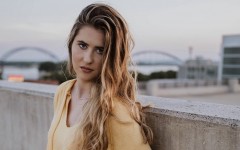 Amelia Prescher, Infographic Manager
Amelia Prescher is a Pleasant Valley High School senior with aspirations to pursue a career in the medical field and attending an out-of-state university....