The online virus: How shoppers are dealing with scams this holiday season
As holiday traditions adapt to restrictions created from the pandemic, the FBI warns shoppers about another virus. Computer viruses and scams contaminate the online world.
With seasonal celebrations just around the corner, the risk of holiday scams will increase– possibly attacking computers and leaving many online shoppers as victims.
Due to COVID-19, 71 percent of shoppers aim to purchase a majority of their holiday spendings online. The rise in popularity of online purchasing increases the chances of getting scammed.
While online shoppers seek seasonal deals, scammers pursue their chances in stealing their victim's money by enticing "too good to be true" social media campaigns. For example, a counterfeit version of a product can pose half priced last minute deals online.
Many of these so-called "real" posts actually expose personal information, including credit card numbers, social security numbers, home addresses and bank account information. Hackers can then transport a buyer's details to the dark web, allowing strangers to commit identity theft.
A big form of scam is phishing. Phishing involves luring unaware customers into freely giving information with fake emails, phone calls or messaging services that are impersonating well-known brands. The attacks ask for personal details or promise money that is never received.
Junior Josie Olderog experienced phishing when stumbling upon a fake email from Amazon Prime. "The email claimed that my membership benefits were suspended, but I don't even have an Amazon Prime account," she said.
The email then urged Olderog to visit a link where she would need to input her credit card number and bank information. "The whole thing was sketchy and I alerted my parents right away."
Luckily, there are warning signs to look out for to steer away from cyber criminals. Although multiple shoppers are looking for the easiest shopping deals during this time of season, recognizing when a deal looks too good to be true just may prevent a successful scam. One way of doing so is to see if the website is authentic by checking the web address for a secure encryption.
When dealing with emails, check for misspellings, errors or unknown senders in emails and counterfeit website addresses. If a website does not have a privacy policy or a return and/or refund policy, the website is most likely illegitimate.
Moreover, senior Joe Dilley has dealt with cyber criminals online and advises to compare the site's URL. "Sometimes these fraud sites don't show the URL," Dilley said. "In that case the URL can be revealed by right clicking the link. Then copy and paste the link where you can compare that link to the original link".
Above all, being aware of the criminals on the internet may allow online shoppers to purchase items with caution. By informing people about online scams, shoppers can search for holiday bargains without having to risk their own safety.
About the Contributor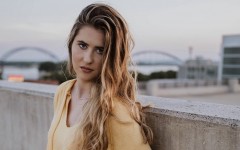 Amelia Prescher, Infographic Manager
Amelia Prescher is a Pleasant Valley High School senior with aspirations to pursue a career in the medical field and attending an out-of-state university....