Feb. 8th board meeting report: 89% of students will participate in new learning model
89% of high school students will be returning to the building on Feb. 16th for the new all in-person learning model, according to the school board's Feb. 8th meeting.
The maximum class size for this new model will be 24 students, with some students experiencing schedule changes to ensure that classes stay under that size. These changes will require understanding, according to Director of Secondary Education Mike Zimmer.
"I'm sure there's going to be some lags. We want to have it perfect, we want it to look right," said Zimmer, calling for "grace and patience" when classes start on the 16th. 
Friday release times will not be changing with the new model, and will continue to be early outs. Freshmen will also continue to not have the 8th period requirement, but Zimmer said administrators  "reserve the right to pull [the 8th period requirement] back" if busing and pickup areas become too congested with freshmen leaving after 7th.
Teachers will be live streaming each class for online students when the new model starts, which the board predicted will change the face of sick days. If students or teachers are too sick to come to the building but feel well enough to participate in the school day, they now have the option to learn or teach from home. 
In streamed lectures, the cameras and microphones of online students will not be required to be turned on. This decision was made based on the fact that some students are not able to find a place where they can control who or what is in their frame. "We're leaving that flexibility for parents [and] the students," said Zimmer. 
The next school board meeting will be held at 6 pm on Monday, Feb. 22 at the district's Belmont office, and will also be live-streamed.
About the Writer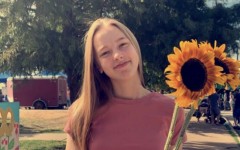 Alyce Brown, Arts and Entertainment Editor
Alyce Brown is the Arts and Entertainment section editor for the Spartan Shield Online. She's  thrilled to be able to share news from the PV community...