Forgotten: The missing people the headlines ignored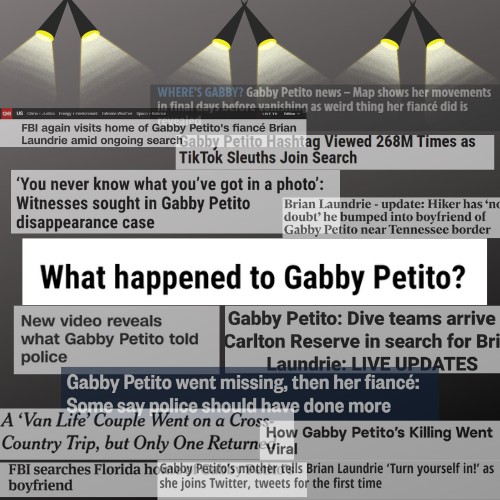 Every year, hundreds of thousands of people are reported missing in the United States. But only certain demographics make their way into the headlines.
In light of the Gabby Petito case, this unbroken cycle has become glaringly evident once again. 
Petito's disappearance quickly attracted nationwide attention, occupying the news cycle for weeks. Petito was reported missing on Sept. 11, 2021, after her fiancé, Brian Laundrie, had returned from a cross-country road trip without her. Petito and Laundrie had embarked on their trip in July 2021, documenting their travels on YouTube and Instagram.
The coverage of Petito's case has been nothing short of relentless. Her case has flooded the networks, newspapers and websites of major publications: USA Today, The Washington Post, CNN, FOX, ABC News, CBS News and more. The New York Times even published three front-page articles in less than a week regarding Petito's disappearance. 
The public interest that Petito's case has captivated mirrors the widespread awareness that news networks have generated. People have taken to social media platforms to analyze the emergence of new evidence and debate theories about Petito's disappearance. Hashtags including #gabbypetito, #whereisgabby and #findgabby trended on Twitter soon after her story hit the press. The hashtag #gabbypetito also trended on TikTok, accumulating upwards of 1.2 billion views. A Reddit page dedicated to theories about Petito's disappearance was created and attracted more than 140,000 members.
In a matter of merely three weeks, great strides were made in cracking Petito's case: report filed, massive publicity, search for Laundrie underway, remains found, FBI raid and arrest warrant issued.
Internet sleuths and detectives alike have demonstrated that it is possible to make a significant impact in a short period of time. So why are people of color not treated with the same sense of urgency? Are they not deserving of justice as well?
The public's active role in the Petito case can be attributed to one reason: their ability to resonate with a young, attractive, white woman. The media and public are caught in a symbiotic relationship: the stories that news networks deem worthy of front-page articles are those that will produce the highest volume of viewership. Often, this means appealing to the majority white population of the United States. 
Black, Indigenous and Hispanic missing persons cases are not given equal priority, despite their occurring far more frequently. According to the National Crime Information Center, 34 percent of the 268,884 females who were reported missing in 2020 were Black, even though Black women only account for 15 percent of the US female population. A University of Wyoming study found that an appalling 710 Indigenous women were missing in the same area wherein Petito's body was found. In terms of coverage, the disparity is flagrant. The same report found that only 18 percent of Indigenous victims made the news, in contrast to the 51 percent of white victims that were given coverage. 
The effects of this intentional white-washing of public discourse have proved to be devastating. While Petito has become a household name, cases concerning people of color have not garnered the same support.
Junior Leila Assadi has taken note of the disproportionate coverage of missing white women in the media. "I remember reading a case about a missing Hispanic woman from Florida. The article compares her case to Gabby Petito's –they were even the same age. The search for the missing Hispanic woman lasted two days, while Gabby's lasted until she was found," she stated.
"Even though both cases are horrific and depict the violent acts committed against women, one was common knowledge and the other I had to take upon myself to research," Assadi continued.
Assadi is referring to the case of 24-year-old Veronica Reyes-Diaz, which has remained at a standstill for over a year since the search was prematurely concluded after two days.
The spotlight that has been shone on Petito has left many families of disregarded victims like Reyes-Diaz pondering, "Why have my loved ones not received the same attention?"
Without the initial support from the media, law enforcement and community, families of underrepresented missing persons have been left to fend for themselves. Father of Reyes-Diaz, Fidencio Minjares said in a statement to News Channel 8, "Share her story, get her story out there, I did everything I could, we passed out flyers."
This phenomenon of stories going untold, otherwise known as "missing white woman syndrome." is seen even on a local level. The disappearance of Mollie Tibbetts, a 20-year-old white female from Brooklyn, Iowa, made national news and trended on social media. Donald Trump even called upon her case at a West Virginia rally to bolster his stance on illegal immigration. On the other hand, the case of Breasia Terrell, missing 10-year-old from Davenport, Iowa, was left in the hands of the local community to spread the word.
Until newsrooms begin to reflect the diversity of this country, missing white women will always rise to the forefront of the news cycle, while the victims silenced are left in the shadows.