The one where the third time really is the charm: PV's volleyball team wins historic state title
After losing to the Ankeny Hawkettes in the semi-finals last year, the PVHS volleyball team was eager to make a comeback. 
Last year, PV's volleyball team was ranked eighth in the state. Through hard work and dedication, they moved up to fifth in the state for this year. They rode this high all the way to the state championship in Cedar Rapids where they beat Cedar Falls, winning a state title. 
The members of the team could not contain their joy for this momentous occasion as they brought home the first state volleyball title for PV. Many of them attribute their success to the teamwork they showcased. 
Senior Livia Thomsen, the team's libero, expressed her gratitude. "Team bonding helped us a lot by making connections because that started to show on the court as well," she said.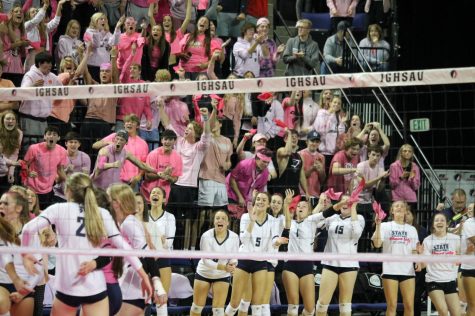 For the first two sets, the battle was evident between the two teams as they took turns gaining multi-point leads. Even so, PV quickly left Cedar Falls defeated. Even when the teams were tied 24-24 at the end of the second set, the girls rallied together to win. 
With the first two sets under their belt, the girls were eager to win the third set. Players like Halle Vice and Arra Cottrell were especially helpful throughout as their powerful arms gained the team many points. Along with them, the defense of PV pulled through time and time again. 
With good defense and great team chemistry, as recognized by Halle Vice, the team was bound to find success at some point. Through the hardship of playing through COVID last year, the girls developed a special bond. "We all can rely on each other without a second thought and know that each teammate we depend on has poured countless hours into their skills," Vice said. 
In the third set, PV beat Cedar Falls 25-13, and the girls piled on top of each other as they made history, winning the 5A state championship for the first time ever. The whole team recognized how remarkable this was and was grateful to share the historic milestone with the entire student body. 
Students came out in droves to Cedar Rapids for the games, and parents and teachers alike poured out their support for the girls. "It felt incredible. To have so many supporters, and for everyone to come together for our cause, is truly special," senior Alexa Frankel said.
After years of just barely falling short, for the PV volleyball team, a state championship has never felt better.