Exceptional enrichment: Navigating course selection to meet student needs
When students begin to plan their high school schedules in eighth grade, they often go in without a clear idea of the differentiation between honors, Advanced Placement (AP) and dual enrollment courses. Unfortunately, this causes many students to enroll in classes that may not be the most advantageous for them in the long run. 
Unfortunately, choices made during course sign-up can be detrimental and prohibit students from learning about other opportunities that could benefit them as they work to develop their individual interests. This begs the question: What should be done about course registration at schools across the nation?
At many high schools such as PV, students begin to register for courses towards the middle of the school year. At this time, students often select courses they have to later change with counselors after finding out they have booked classes that will not properly align with their goals for extracurricular activities or future plans.
But how can students ensure they are taking the right courses in the first place?
This is where the importance of understanding the difference between honors, AP and dual enrollment courses comes in.
At PV, students are automatically enrolled in general courses such as ninth grade English and US History, though they have the chance to enrich their experiences by taking challenging courses that are best suited for their individual needs. While PV hosts meetings where students and their parents can learn about course registration and what courses entail, many students feel as though they are not adequately prepared.
Although PV provides resources such as an extensive Course Registration Book for families, there are many terms and rules related to classes at PV that may confuse incoming freshmen trying to navigate their schedule and life as high schoolers. 
For example, PV provides an honors science track that requires students to enroll in the following classes their freshman, sophomore and junior years respectively: Honors Biology, Honors Chemistry and AP Physics 1. While many freshmen feel confident in their science abilities, they often feel subjected to taking courses that may not interest or benefit them in their future. 
On the other hand, many are thankful they have the privilege of taking high-level science courses. While PV's science program is excellent, it is important that students take courses best suited for their individual needs. 
That is where the expertise of teachers such as science instructor Chris Kohn comes in. Kohn believes the science program can prove advantageous for students as long as they properly evaluate their options prior to signing up for courses their freshman year. "When we look at the honors track, it's been developed for kids who are planning on going into science. Not everyone needs Honors Biology, Honors Chemistry or AP Physics," he shared.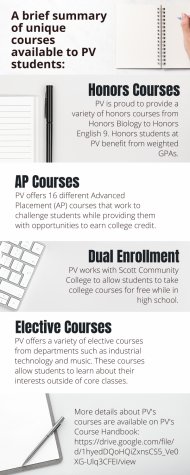 Kohn recommends that students carefully evaluate their future plans prior to course sign-up. He advises that students who are not sure if their future will involve science enroll in Earth Science their freshman year. Kohn believes that the opportunity to take Honors Biology after Earth Science will still provide students interested in science-related fields with the resources they will need for their future careers.
PV offers many other honors-level courses that students can take during any of their high school years, and it is important that students follow Kohn's advice and consider their futures and schedules when signing up for their courses. 
While honors courses serve to challenge students and provide them with a weighted GPA, there are other opportunities for students to challenge themselves while potentially earning college credit through AP and dual enrollment courses. 
AP courses are considered honors courses at PV and are a way for students to work towards earning college credit while taking advantage of a weighted GPA. College credit is earned through tests that are scored on a five-point scale. Colleges then take these scores and determine if they will give students college credit for the class. Most schools give credit for scores above a three, though credit given varies by college and course.
On the other hand, students desiring to achieve credit for college are given the opportunity to utilize Scott Community College's dual enrollment program and achieve direct college credit. These dual enrollment programs have increased in popularity recently and are recommended by college professors across the nation. 
Dr. James Webber, Ph.D., is an Iowa native who currently works at the University of Nevada, Reno. He teaches English and writing courses and has had the opportunity to see the advantage of dual enrollment courses firsthand. Webber believes dual enrollment courses can help students build strong foundations for courses, specifically those he teaches. For example, "students have an opportunity to begin thinking about how writing changes as writers move among different academic disciplines, professions and public settings," he shared. 
Webber believes taking writing and other dual enrollment courses prior to college will allow students to come into first-year programs with knowledge they might not have acquired otherwise. However, as with AP and honors courses, dual enrollment courses have disadvantages if students do not differentiate between courses best taken at their university and courses they can take at a community college.

"If students view [dual enrollment] as a way to shorten their time to degree, or to take care of prerequisite courses, then it's not going to offer the kind of benefit that my field and policymakers want students to have, which is overall improvement over time," he shared. 
With this in mind, Webber hopes to guide students through their dual enrollment experience by utilizing his experiences with dual enrolled students to help future students. "My recommendation to students would be two things: first, to look at dual enrollment as advanced placement, not advanced exemption, and second, to look for opportunities to take courses on researched argument while taking introductory courses in their fields while in college."
Webber believes courses such as those related to researched argument will help students maintain the educational value of college courses, even if they will not have the experience of taking those classes in college. 
But how can students determine which courses will prove most advantageous to their future?
That's where the advice of previous honors students can aid in decision making. PV alum Jonathan Sulgrove is a freshman at Liberty University who participated in honors, dual enrollment and AP courses while he was a student at PV. "When signing up for honors, AP and dual enrollment courses, make sure to consider how they will affect your future," he advises. "Will it improve your chances of being accepted to a college? Will it save you money when paying for college courses in the future? Is it information that will help you later in life? Do not sign up for too many hard courses though, as it can be taxing on your health physically, mentally and emotionally."
While it can be overwhelming to navigate the courses offered at PV at any time in a high school student's academic journey, it is important to carefully evaluate all opportunities and options prior to signing up for courses each semester.