The History of the Kentucky Derby and gambling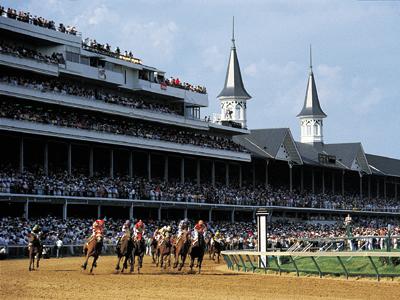 It is difficult to name an American sporting event with more tradition and history than the Kentucky Derby. The Kentucky Derby is the oldest sporting event in America, debuting in 1875. Nicknamed "The Run for Roses," the Kentucky Derby has become one of the most anticipated and exciting events in all of sports.
The Kentucky Derby came to be in 1872 when Meriwether Lewis Clark traveled to England and attended the Epsom Derby, a well known race in Europe. Clark was very impressed by the horse racing event in England and set out to create his own rendition to bring back with him to the United States.
Clark was donated the land for the race track, and with the help of the Louisville Jockey Club, he was able to pull enough funds together to build a racetrack in Louisville. On May 17, 1875 the very first Kentucky Derby was held.
On that day 15 3-year-old horses lined up at the start. They then proceeded to race 1.5 miles in front of over 10,000 spectators. In the end, the inaugural Kentucky Derby was won by Aristedes.
The Kentucky Derby has evolved into so much more than just a horse race over the years. On race weekends, thousands of derby fans race into Churchill Downs to take part in galas, dinners and other social events that come with each Derby weekend. One of the most iconic traditions of the Kentucky Derby is draping the winning horse in a blanket of red roses, hence the race's nickname "the run for the roses,"
The Kentucky Derby, like many other sporting events, is heavily bet on each year. Over $150 million is won by betters wagering on the Kentucky Derby each year. 
Students at PV have found entertainment in placing bets on the horses and watching them perform. "I love making bets with my friends on sporting events," said Senior Ryan Groenenboom. "It makes it so much more fun to watch sporting events when there's something on the line for you. I don't bet a lot of money, but it certainly makes it more entertaining because it gives me somebody to root for." 
Senior Sam Bebow also partook in betting on the big race this year. "This was my first time betting on it and it was surprisingly fun to watch. My horse didn't win but I still plan on doing it again next year," said Bebow. Going into this weekend's race derby winner, Rich Strike had 80-1 odds to win. Strike and his jockey, Sonny Leon, were able to pull off a huge upset and shock the world. This exciting upset was what the Kentucky Derby is all about.