MM vs. KK: The impossible Kardashian to Monroe pipeline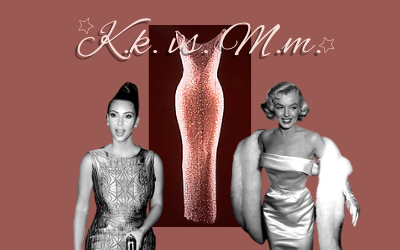 Marilyn Monroe: A ticking-time-bombshell
Marilyn Monroe is arguably one of the most legendary American personalities of all time. For her babydoll sweetness, captivating talent and enchanting sensuality, Monroe has secured her star in the sky for as long as there is a solar system. Her dazzling face can be found on screens, posters, shirts, toys and more across the globe, but all she ever really wanted to find was happiness. 
In 1926, Monroe was born as Norma Jean Baker to a mother incapable of raising her and a father she never met. 
Throughout her childhood, Monroe lived under the care of 12 different foster families and endured mental illness, physical abuse and sexual assault. She was married off to a neighbor by the time she turned 16 because the family she was staying with at the time could not afford to keep her.
When her husband was deployed during World War II, Monroe turned to serve the war effort by working in a factory. It was there that she was both discovered by an enamored photographer and she discovered her life could be something more.
Her new pseudonym and bleached baby bob accompanied short modeling gigs and movie contracts as the beginnings of her career, but she was still living paycheck to paycheck. 
When Monroe infamously posed in the nude for photographer Tom Kelley, it was to cover a $50 car payment. Little did she know that her body would be sold to star in Playboy Magazine's first issue. It was neither her choice nor her intent. "I never even received a thank you from all those who made millions off a nude Marilyn photograph," she honestly commented. 
Being profited off of by millions for sex appeal alone is incredibly dehumanizing, and the pattern of characaturing Monroe has remained present through the present day. Historians have actually accumulated evidence speculating whether Monroe was asexual, furthering conversations of Hollywood ethics and nonconsentual sexual exploitation.
Nonetheless, from that day forward, Marilyn Monroe was a household name.
Monroe starred in various Hollywood classic films, her most famous being "Gentlemen Prefer Blondes," where she wore her infamous hot pink gown and performed "Diamonds are a Girl's Best Friend," and "The Seven Year Itch," which gave us Marilyn's historic flirty white dress photo.
PV senior and long-time Marilyn fan Harper Clark sees her as an "icon for old Hollywood. She had a really troubled life growing up but was able to make something of herself." Monroe's perseverance in spite of every hardship she faced is as immortal as her actual face.
Despite her monetary success, her mental health continued to decline for the duration of her life, and after spending time in a psychiatric ward and at least one attempted suicide, Monroe passed away at 36.
Monroe is glamorized for her undeniable beauty and picturesque 1950s Hollywood lifestyle, but what lay beneath the blonde was a depressed young woman who only ever wanted to be at peace. Other film icons for decades after have aspired to acquire the infamy Monroe's legacy holds, but it is unattainable; she did not go into the industry with the intention of making a name for herself, and that honesty simply does not exist anymore. 
She became what Hollywood wanted to see but not out of selfishness – out of survival.
Kim Kardashian: A kalculated kareer
From birth, Kim Kardashian was brought up to be a star. Her ever-present, self-proclaimed "momager" Kris Jenner made certain that her family would seek out, claim and embrace the limelight, and it was Kris Jenner who sought out the family's first gig.
After one trial pilot with Ryan Seacrest, the very first episode of "Keeping up with the Kardashians" aired on E! on Oct. 14, 2007. It was not long after before the Kardashian monarchy ruled millions of American home, let alone international ones.
Kardashian's popularity grew exponentially after her scandalous sex tape with American singer Ray J was released in 2007. The video itself had been collecting dust for five years prior to its publication, but it immediately established the family as a steadfast source of hot, spicy drama.
While it is not guaranteed whether the sex tape was planted to come out in conjunction with the show or if it really was all a "mistake," Kardashian embodied the ideal that all publicity is good publicity.
From her marriage to American rapper Kanye West to her recent divorce from him to her adorable children to her long-lost diamond earring to her proud cosmetic surgeries and more, Kim has certainly made a name for herself in the stars. 
Kardashian's reputation precedes her with scandal, beauty, glamour and drama. Without an extensive knowledge of the royal television family, the first thing that comes to mind when PV senior Raksha Kumar hears the name "Kim Kardashian" is, "Influencer- Kardashian is an influencer." In every aspect of that word's definition, that can be proven true.
She transformed from a reality show ditz to an international sensation in under a decade, and what lies in store for this unapologetic star is to be seen.
A modern Marilyn? 
Idolized for their sexual appeal and dramatically public careers, these two legendary women have been consistently compared in the modern media as queens of their respective eras. This parallel has only been brought forward in the recent media after Kardashian wore Monroe's historical "Happy Birthday, Mr. President" gown to the 2022 MET Gala.
A true historical artifact, this delicate dress is one of the most expensive pieces of American fashion, sitting around a 10 million-dollar value not just for its physical state, but for the Western pop culture history surrounding it and the uproar this performance caused. Flashing rumors of an affair between Marilyn Monroe and President John F. Kennedy were swarming the media, and this sensual performance did nothing to subdue them. 
When Monroe was found dead only three months later, all gossip was put to bed, but conspiracy theories began to surface – and continue to this day. 
For Kardashian to wear the dress was problematic for myriad reasons. First of all, it contradicts most modern museums' codes of conduct to wear a historical garment – let alone such an expensive one. It should be preserved not even in an exhibit but a safe storage vault for historian access. Secondly, much controversy came from Kardashian admittedly losing 16 lbs. in just three weeks in order to fit into the gown. That is incredibly unhealthy, both physically for her and mentally for the millions of individuals she will inevitably influence.
Finally, it needs to be recognized that Kardashian wearing this effort was a conspicuous effort to equivocate her identity with Monroe's, when in reality, the two are hardly comparable.
Yes, they both gave their bodies to the media. They both lived and worked in the California film and television industry. They both are overtly sexualized as women in the media.
Yet, they still differ so significantly in their morals, priorities and legacies.
Monroe did not have an omniscient maternal figure guiding her to stardom – in fact, she hardly had a mother at all. She paved her own path and made up her own mind. On the other hand, Kardashian was blessed to have an incredibly invested mother who was willing to do anything and everything to get her children to the top. While she has certainly worked, she had this opportunity handed to her.
Kardashian is not nearly as public about her mental health as sister Kendall Jenner, but it can be recognized that Marilyn was in an extremely separate mental place from Kardashian for the majority of her life. She could not afford to let herself be. 
It is inappropriate for Kardashian to attempt to embody only the romanticized parts of a woman whose life was so clearly not all diamonds and dreams. Parading around in Monroe's dress does not do justice to the incomprehensible hardships Monroe had to endure her entire life. Kardashian is not and never will be a modern Monroe.
Ultimately, comparing these two women – or any women in Hollywood – does much more damage to the concerned individuals than can be seen on the outside. They are validated in their own experiences and celebrity identities, and the stars who experienced so much pain should be allowed to have their legacies left alone in peace.