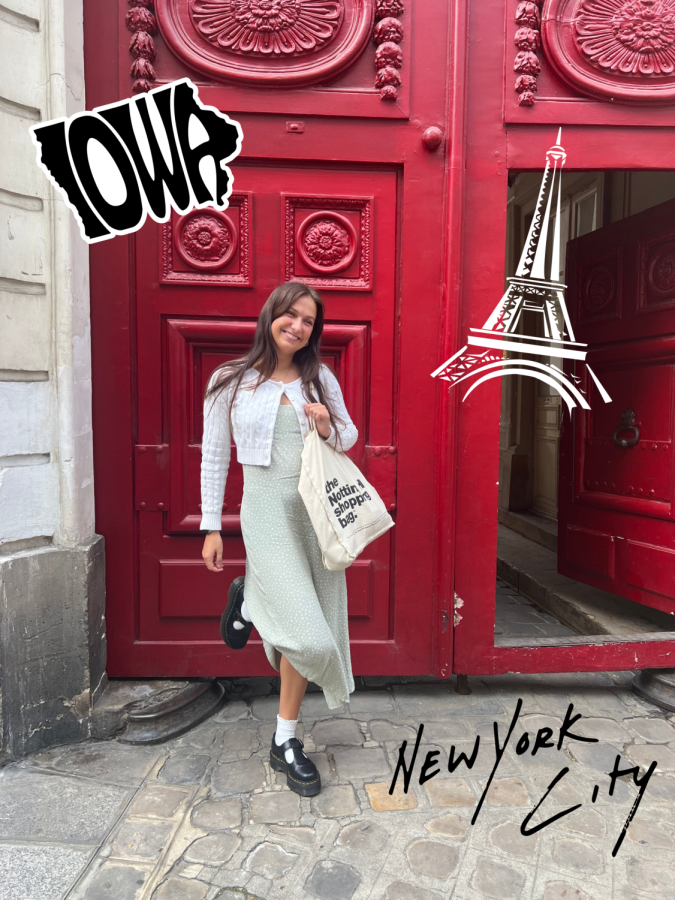 Hannah Lederman- Campus Capture
The largest private university located in the heart of the Big Apple, New York University (NYU) is a highly regarded institution. The metropolitan location of the campus not only provides unmatched scenery, but it is also flourishing with opportunities. The university boasts a realm of diversity with its students representing over 120 countries. 
When taking the next step towards post-secondary education, there are many factors that students must consider: staying close to home or far away, attending a 4 year university or 2 year, pursuing a traditional career path or an unconventional route. Many worry that these decisions, made during a person's senior year of high school, determine the course of their future.
In addition to the natural stressors of these important decisions, navigating a pandemic simultaneously creates even more uncertainty. Pleasant Valley Class of 2020 graduate Hannah Lederman has had anything but the ordinary college experience. "I had always dreamed of going to NYU for college, but when the pandemic hit, I decided to make a change and go to the University of Iowa," Lederman said.
Having spent several summers doing programs in New York, Lederman was very invested in attending NYU for college. However, due to the circumstances COVID-19 brought upon, she decided to stay in-state. Dealing with online classes and other protocols, it was the best decision for her at the time.
Lederman attended the University of Iowa for two years, as a freshman and sophomore. She has been a lifelong Hawk fan, so a highlight of her experience was being able to root for the Hawks. 
"I was recruited to be on the 3rd nationally ranked University of Iowa Dance Team, which was a dream since I had been dancing my whole life and wanted to continue my sport," Lederman continued. "That was what drew me to Iowa and made me feel that although I was forgoing my dream of attending NYU, I was still accomplishing something incredible. I loved my teammates and being a part of an athlete representing my home state." 
However, going into her junior year in college, Lederman realized Iowa was not the place for her. Lederman said, "Beyond the team and continuing to dance, I was unhappy. I did not fit in with the students in my classes and felt I was not able to access certain opportunities I wanted because of my location." Ultimately, though she would miss the dance team, Lederman aspired to continue her education in a new environment.  
After much deliberation and enduring the college admission process yet again, Lederman transferred to the prestigious New York University. She was accepted to the Media, Culture and Communication major and was excited to experience a program with alumni spanning from every major entertainment company. This change was a dream come true for Lederman.
Beginning in the fall of 2022 as a new student at NYU, Lederman was met with one of the many opportunities NYU has to offer. She had the opportunity to study abroad at NYU Paris in her first semester. "I had the best 4 months of my life in Paris, meeting other transfers and existing NYU students, creating lifelong friendships, exploring the world, and finally feeling like I am doing what I love at the right institution," Lederman said.
During Lederman's time in Paris, she began documenting her experiences through video stories, commonly known as vlogs. Posting these videos to her YouTube channel, friends and family were given a glimpse into Lederman's daily life and to sights and monuments of the places she visited. These videos allowed people to stay in touch and offered future NYU students a chance to see what a semester abroad may entail.
After her semester abroad, Lederman returned to her home country, "Now, I am in New York and life keeps getting better. I love the city and the amenities it has to offer. The students I meet are ambitious and supportive, and everyone brings their individuality to discussions, creating such a dynamic and special space to grow."
From Iowa to Paris to New York, Lederman has been exposed to a plethora of cultures and can proudly say that New York truly feels like home. "Iowa is amazing, and I am a proud Hawkeye, but NYU has provided me with spaces to pursue my dreams. Also, I am studying media and culture in the world capital of media and culture. It is such an invaluable experience and I feel that being here, at NYU, has given me the possibility to really make it in the entertainment industry," Lederman said.
She has enjoyed her time in each of the locations that she has pursued her education in but truly knows that NYU is where she is destined to be. The possibilities and connections are endless in the city and, ultimately, NYU is the best place to be for Lederman's future career. Lederman is an inspiration to many as she has demonstrated that it's possible to completely switch college paths – and be incredibly successful while doing so.