Studying with an interruption
Students in need of a quiet and safe place to study often head to the library, where safety is rarely a concern.
A few months ago at the Bettendorf Public Library, a man tried to commit suicide one evening. A man appeared to be sleeping in a small conference room, but that was not the case.  
A staff member who was walking through the library saw the man in the conference room. When the staff member saw the man sleeping, she thought twice about what she had just noticed. Taking further action, she went into the room to try to wake him.
The man didn't wake up when the staff member touched him and asked him to.
The staff member immediately went to call the police. After the police arrived, they were able to help the man walk to the gurney. Seconds later, a note was found, and the police identified it as a suicide note. The man was rushed to the hospital immediately. No further information has been released about the condition of the man.
According to Maria Levetzow, Assistant Library Director, "The amazing staff members here have been through extensive training to search for these signs. They continue to keep looking for signs like these." The Bettendorf Library staff members have annual service days, along with monthly meetings, at which topics such as this are discussed.
Without a plan in place to have staff walk throughout the library on hourly checks, this man would not have been found. Levetzow explained, "I still feel the library is a safe place to study and for students to come, but I want everyone to keep in mind this is a public place. In public places there is always a risk." The staff at the Bettendorf Public Library is involved in hourly checks to help prevent as much of these risks as possible.  
According to BettendorfPublicLibrary.com, there rules of conduct state, "Children under the age of 9 years should be accompanied by an adult." To prevent anything bad from happening, they have placed an age limit on children who attend the library alone. This age requirement is the same for using the conferences rooms. While there is no time requirement to be in the conference rooms the staff members come by every 45 minutes for a safety check. For students attending Pleasant Valley High School there is always a concern of safety no matter where students are at.
About the Writer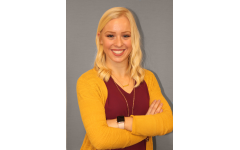 Katie Morrissey, Staff Contributor
My name is Katie Morrissey, and I am a senior this year. I am involved in cross country, and track. When I am not running, I am hanging out with my friends,...