Transitioning at Pleasant Valley
Hang on for a minute...we're trying to find some more stories you might like.
The road to the real Ty Stinson hasn't been easy. During his 6th and 7th grade years, Stinson began binding¹, but didn't realize that he was transgender until freshman year. At the end of his sophomore year, he cut his hair and began going by his preferred name and pronouns. During his junior year, he officially came out as transgender. Stinson recalls, "It was hard for me in the beginning because I was afraid of what others would think, but after a while, I couldn't really deal with being misgendered. It takes a while to get the confidence, at least for me. But once I was ready, and did come out, I was so much happier."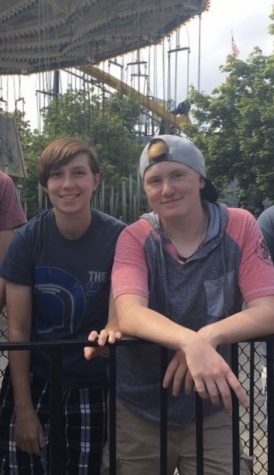 Students just like Stinson roam the halls of PVHS, each with their own story. For sophomore Alex Chapman, he came out as transgender midway through his 8th grade year, and almost a year later, got his name legally changed and then started a hormone replacement treatment. "On December 4th of 2016, my parents gave me my full name because I let them pick my middle name. The day after, we went to the courthouse and [petitioned] the court for a name change. Sixty-one days later it was approved, and the following October, we made an appointment at the endocrinologist to start hormone replacement therapy (HRT). I got my script for testosterone on April 4th, 2017 and started testosterone about a week later on April 13th, 2017."
For most students, like Chapman, the hardest thing about coming out is building the courage to come out to their parents. But for Stinson, the most challenging aspect was the negative reactions from people he used to consider his friends. Stinson says, "It really hurt for someone to instantly dislike me just because I was learning how to be myself. That and the comments I get from people I don't know really hits hard."
Both Stinson and Chapman have turned to the UNITE Club for support. The UNITE Club is an organization at Pleasant Valley that celebrates diversity of all races, nationalities, religions, gender identities, and sexual orientations. "UNITE has definitely given me a small family within the school that is understanding and supportive," says Chapman.
Over the past couple of years, PV has tried to be as accommodating as it can to transgender students. "We've converted many faculty single stall bathrooms into unisex, started referring to students by their requested pronoun, added their preferred name into Infinite Campus, provided restricted shower access to the visitor locker room and designed single stall showers in the new locker rooms," stated Mike Zimmer, the school principal. But it's not just the school administration who believes they have improved the school's policies. Stinson said, "The teachers are also extremely respectful when it comes to names and pronouns. I haven't met a teacher yet who doesn't gladly use them. Some teachers, like the band directors, even tell other teachers for you."
Earlier this school year, Varsity Brands awarded Pleasant Valley High School with the honor of being the "Most Inclusive School in the Nation." This award is given to the school that "embraces an unwavering commitment to inclusion." As Zimmer stood before the student body and faculty, he told the story of how the Sparkles, the world's first inclusive cheerleading team that originated at Pleasant Valley, came into action and how it has impacted communities from around the nation. He talked about how the cafeteria would soon be decorated with forty-three different country flags, each representing the birthplace of PVHS students. He talked about how the various clubs around the school, like PV Pals and the UNITE Club, have helped our students adapt and feel welcome at Pleasant Valley. But perhaps most importantly, Zimmer talked about "respecting, not tolerating" our peers. He challenged the students, the faculty and the administrators to "stand up to injustice by not being a bystander but an upstander." As we enter October, LGBT awareness month, students like Stinson and Chapman, and countless others who support their bravery and confidence, hope PV can continue to take more steps forward when it comes to the inclusion of all of our students.  
binding –

a way for a transgender masculine person to make their chest look flatter (Stinson)