Quenching your thirst while saving the planet
Hang on for a minute...we're trying to find some more stories you might like.
Water is something that we all need to live. You can find it anywhere in the world; lakes, oceans, rivers and even from the sky. But what happens when these sources are polluted with the very device that is used to capture this resource? There are approximately 2.25 trillion pieces of floating plastic debris in in the ocean according to National Geographic.
In America alone, almost 137 thousand plastic water bottles were thrown away per day in 2017. Even with a recycling program, only 23% of all water bottles were recycled last year. Which means that about 38 billion water bottles, over $1 billion worth of plastic are wasted each year.
There are so many easy solutions to this problem, yet people chose not to help our planet be healthy. The easiest way to keep out water sources clean would be to simply recycle your plastic water bottles. Usually, wherever there is a trash can around, there is a recycling bin nearby, it wouldn't even cost you any time or money to throw it in the blue bin.
Senior Lucy Foley said, "I get so upset when I see people throwing away plastic water bottles when there is a recycling bin three feet away. It is so easy to take that one extra step and help save the planet."
Buying a reusable water bottle is also another huge product that will help. Why spend $5 every week to go buy a new case of water at the store when you can spend $20 once to buy a reusable water bottle once that you can fill over and over and get your money's worth.
There are tons of different brands that you can choose from. Camelbak and Hydro Flask are probably the two biggest reusable water bottle brands out there. Camelbaks are made from copolyester polymer, a much more durable plastic substance that is 100% BPA free. These range from as low as $9 and the more  common ones being around $15.
Hydro Flask is really making a statement right now. With so many people becoming more and more involved and concerned with the environment, they see that this is an easy way to help save the Earth. They do cost a little bit extra but that's because they are made from a high quality 18/8 food grade stainless steel. They come in a huge variety of colors and have two different lid options; a sport cap that has a straw out the top, or the standard mouth that is unscrewed and drank out of like a normal water bottle. They are easy to clean, don't have a liner to scratch, don't sweat so you don't leave those annoying water rings wherever you set it and are 100% recyclable. They also have a vacuum seal lid, keeping your cold drinks cold and your hot's hot for longer. Because of all this they usually price from $30-$40, still cheaper than buying a pack of water bottles every week for a year.
"I don't like how the school water tastes and my Hydro Flask holds more water that I can fill at home and it stays cold and lasts all day," said senior Emma Elceser. "Plus, I'm not throwing away thousands of plastic water bottles a year and polluting the Earth.
About the Writer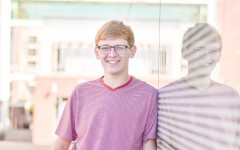 Avery Luepker, Social Media Manager
Hi, my name is Avery Luepker, I am a senior at Pleasant Valley High School. Even though this is only my first year here, I am heavily involved in music...