Tragedy strikes Santa Fe
Hang on for a minute...we're trying to find some more stories you might like.
On Friday, May 18, 2018, 10 people were killed in an act of gun violence at Santa Fe High School in Santa Fe, Texas. The shooter was 17-year-old student Dimitrios Pagourtzis. According to the Washington Post, this is the 16th school shooting that has occured this year.
What sets this story apart from other recent school shootings is that the student open fired at other students with pistols and shotguns. Unlike other recent school shootings, the shooter utilized weapons that are easily accessible to the public. He also incorporated the use of explosives around the school building. This act of violence mirrors larger scale school shootings such as the Columbine shooting, during which the shooter distributed bombs within and adjacent to areas of the school. Sources from CNN stated that the Pagourtzis researched tactics used in other shootings to inspire his attacks at Santa Fe High School.
Pagourtzis entered the school building wearing a trench coat to hide his weapons. During the first class period on Friday morning, the student open fired on an art class, killing 10 people and injuring at least a dozen others. Of the 10 who died during the open fire, eight were students and two were school staff. All 10 of the victims were identified on Friday. The students that died during the incident were Kimberly Vaughan, Sabika Sheikh, Chris Stone, Jared Black, Shana Fisher, Angelique Ramirez, Christian Riley Garcia and Aaron Kyle McLeod. Teacher Glenda Ann Perkins and student teacher Cynthia Tisdale were killed during the open fire that morning as well.
Pagourtzis showed no prior history of violence or behavioral issues and news of this shooting was a complete shock to his family. Pagourtzis' initial plan was to carry out the shooting and commit suicide afterwards. According to several sources, when asked why he spared the lives of certain individuals, Pagourtzis stated that he only did it "so he could have his story told". The student was arrested and charged with capital murder.
About the Writer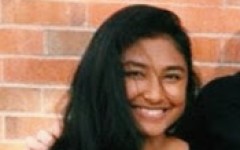 Roshni Nair, Arts and Entertainment Editor
My name is Roshni Nair. I am a senior at Pleasant Valley High School and I am an Arts and Entertainment editor for the Spartan Shield. Outside of this,...