JUUL-ing
Hang on for a minute...we're trying to find some more stories you might like.
Pleasant Valley High School has taken the new 2018 school year as an opportunity to crack down on the new Juul-ing trend. Consequences ranging from usage fines of $50.00 and three days of out of school suspension to fines of $200.00 and five days of out of school suspension topped with a pre-expulsion hearing charged with possession.
These repercussions are designed to get the attention of the students with the goal to stop the youth from Juul-ing. Principal Mike Zimmer says his "hope and prayer about [Juul-ing] is not about the consequences…" but that he aims to educate in order to prevent the usage of the Juul.
Zimmer says that Juul-ing is important to draw attention to and be understood because of the fact that it's is such a new concept. here is hardly any any research to be found on what is actually in the liquid inside the pods, Zimmer states that "pure addictive nicotine is in the same category as cocaine". The American Lung Association sites that nicotine is as addictive as alcohol, cocaine, or even heroine, which could explain why some students cannot simply quit. The association also has found that smoking a 5% nicotine solution is equivalent to smoking one pack of cigarettes.
Rumors of smoke detectors in the bathrooms to catch students in the act of Juul-ing or vaping have been circling Pleasant Valley High School. Zimmer says, "if [the smoke detectors] are there, it's because code requires it, not because we're trying to catch people smoking". He goes on to say that the kind of smoke that the Juul puts out is not actual smoke–it's vapor–so the smoke detectors would not be able to pick it up anyway.
Pleasant Valley senior, Solange Bolger, talks about her experiences with JUUL-ing on school grounds and how the school tightening its reins on Juul-ing has impacted her life. However, Bolger says it hasn't affected her at all, and that she thinks kids bringing their Juuls to school is "silly". She added, "I get that [the students] think it's fun and all, but I respect the school more than I respect a nicotine addiction".
About the Writer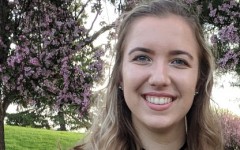 Alana Woolison, Photo Manager
My name is Alana Woolison and I am one of the photo managers for the Spartan Shield. I love being outdoors and have a cat named Chase. I have an older...