The new "Hot-Spot" for Bettendorf teens
Hang on for a minute...we're trying to find some more stories you might like.
Many people have already noticed that there has been an opening of a new sports complex that has attracted many athletes at Pleasant Valley. Most people know it as "Bett Plex" but now the new title for it is "TBK Bank Sports Complex". This sports complex is a great hang out place for students and even a place for teams to hold practices and games on the weekends.
There are multiple sports that are offered at the TBK sports complex including baseball, soccer, basketball, softball, volleyball, and sand volleyball. Brennan Sarver, a senior at PV, stated, "My favorite thing to do is the sand volleyball because the Digs Bar and Grill is right next to the courts". Even after a long game teams often head over to the bar and grill to get a quick bite to eat and relax. Sarver also explained how he likes the slogan of Digs Bar and Grill which is "you got served" because it goes along well with where it's located in the sports complex.
Not only can teams hold sports activities there, afterwards there's always time for team bonding. Peyton Lindmark, a student at PV, stated "I love when our baseball games are at the TBK complex because afterwards we can go inside and hang out". Not only can students play sports there, they can also go in the arcade, escape room, and even the bowling alley "High5".
The TBK sports complex also makes sure everyone is safe while doing all these activities. Within the facility they have a Genesis Physical Therapy center where athletes can go if they have any injuries or are recovering from an injury. This ensures parents that their child will be safe if anything were to happen during a game or even a practice. Sarver says, "One time one of my teammates got injured so we sent him to the Genesis center and he was fine within the next few practices".
There were already many sports complexes within the area so when the TBK sports complex opened, other businesses knew there would be a lot of competition. TBK took a lot of members from the local YMCA in Bettendorf and Davenport. The two main reasons that members from the YMCA switched to the TBK complex was because it was cheaper and newer. People that workout love new machines and new workouts. TBK being a new facility full of new machines, it attracted a vast amount of local people and athletes.
The TBK Bank Sports Complex was a huge success and has attracted many students and athletes in the Quad Cities. Many students from PV often visit and even look forward to going there for practices and games.
About the Writer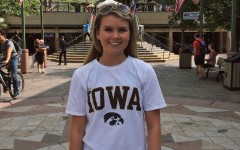 Caroline Carlson, Arts and Entertainment Editor
My name is Caroline Carlson and I am the section editor for the arts and entertainment for the Spartan Shield Online. I am on the Platinum dance team and...