The benefits of dual credit classes
Hang on for a minute...we're trying to find some more stories you might like.
Pleasant Valley High School is very lucky to have a partnership with Scott Community College that allows them to offer dual credit classes to students. These dual credit classes count as both high school and college credit, allowing Pleasant Valley students to have a leg up going into college.
These classes allow students to experience the workload of a college course while still being in high school. Lynne Lundberg, Pleasant Valley High School dual credit teacher stated, "These classes can give students a chance to be college students without leaving the support networks of high school teachers."
Many students are unaware of the large amount of courses that Pleasant Valley offers. There are college courses offered in nearly every core subject. Some of the well known courses include psychology, sociology, calculus, statistics, and humanities. However, there are far more courses available.
Counselors are a great resource to learn about different dual credit options. Every Friday, there is a Scott Community College Representative in the counseling office who has in-depth knowledge of all the different courses one can take in order to receive dual credit.
Senior Grace Schons likes having the option of dual credit classes. Schons stated, "I am able to complete college hours while still in high school and not have to pay for the class but I still get the credit. Especially if I am looking into a state school." Dual credit classes are free to students at Pleasant Valley High School. Lundberg also stated, "Dual enrollment classes are certainly a good deal financially, especially given the amount of debt many college students are destined to carry into adult life."
Nearly all dual credit classes will transfer to the three state schools: University of Iowa, Iowa State University, and University of Northern Iowa. Many credits will still transfer to other colleges and universities throughout the country.
About the Writer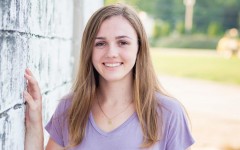 Danielle Nauman, News Editor
My name is Danielle Nauman and I am the News Editor for the Spartan Shield online. I have a younger brother and enjoy spending time with my family and...