Time for scholarships
Hang on for a minute...we're trying to find some more stories you might like.
Seniors are slowly approaching the day when decisions must finally be made. What career they want to pursue, what college they want to apply for, and finally, where are they going to find the money to actually get the education they need. The simple answer to the last question is summed up into one word… scholarships.
Valerie Tucker, a counselor at Pleasant Valley explained, "Students think that scholarships go to the people that are the smartest, or the most talented. Though, in reality you have as much as an opportunity as everyone else to get a scholarship."
Some seniors may be wondering why they need scholarships if they already have money or have relations that are paying for their college expenses. Emily Johnson, senior at PV she said, "I am doing scholarships because I want to be as financially supported as possible." Her goal is to get enough money, so that she does not have to work as much during college. The reason students should still make the effort in getting scholarships is because it is free money.
Every dollar helps when trying to prepare for college. Not only do students need to be thinking about the cost of actually attending college but they also need to save up for textbooks, a place to live, and food. Many students may feel like they don't have enough time to search and apply for scholarships to which Tucker responded, "If you spend an hour everyday searching for scholarships, and actually applying for them, you could earn up to a thousand dollars an hour." If students start now, they will be able to spread out the time spent searching for scholarships instead of struggling to apply for them all at the last minute.
As students are deciding to take time to search for scholarships, there are a couple of places that students can start out with. First, there are scholarship opportunities posted on the Pleasant Valley website on the counselor page. Another website, recommended by Tucker, is https://www.fastweb.com/. On this website, students can fill out a profile and the website will email the students scholarships they might want to apply for.
When students are searching for scholarships outside of these mentioned sources,  they should be aware of the sources to stay away from. Tucker cautioned, "Never, ever pay people to recieve free money." Scholarships are opportunities to earn money and if a source is asking students to pay then it is most likely a scam.
About the Writer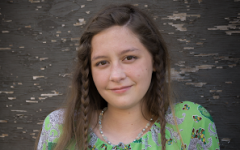 Rosemary Jones, Opinion Editor
My name is Rosemary Jones. I am the Opinion Editor of the Spartan Shield website. I enjoy swimming when I find the time. I also love reading, and writing...